A lot of coins are marginally down presently. The reasons for this are sometimes unknown or bogus, and at other times the assets are simply victims of the demand and supply laws of the market. Consequently, fewer coins are making it to the list of Top Trending Crypto Coins on DEXtools. The list of hot pairs on DEXtools is not moving so much to accommodate trendier coins because there are not in fact so many. 
Nevertheless, individual assets are not going home empty-handed even though the market is not very impressive at this time. The more experience asset holders and/or traders are falling back on instincts and experimenting with strategies to navigate the stormy tides of the cryptocurrency market. Regardless, keeping an eye out for the trendiest coins in the crypto market, even in such times is always a safe option.
In other words, while most cryptos are losing steams this week, some coins are hitting bigger numbers. Fortunately, the crypto sky is large enough to accommodate everyone and there is something for everyone. 
1. Debt Box (DEBT)
The "DEBT" in Debt box is an acronym for Decentralized Eco-friendly Blockchain Technology. It is easier to grasp what the project and the token stand for when you look at the full meaning of the acronym. The DEBT box platform is a decentralized platform with DeFi policies to encourage financial transactions and activities in the cryptocurrency market outside of centralized institutions and policies. Furthermore, they adopt eco-friendly objectives which are incentivised with the DEBT token and facilitated with the Blockchain technology. 
In addition to this project, the DEBT box project has attached its digital native token to actual or authentic commodities and assets found in the real world. Through its blockchain technology, the project supports touchable and valuable commodities such as silver, crude oil, gold, natural gas, agricultural produce, fiat, and even real estate.
The logic behind this attachment is to ensure the stability of its token. By pegging their token to tangible commodities, they have reduced volatility in their ecosystem. This way, they also generate revenues. Finally, the DEBT token is the native token used on their platform and this will see a sustained and perhaps increased demand for the token.  
Debt Box currently sells at $4.75 and the maximum supply is last known to be pegged at 50,000,000 DEBT coins. 
2. Tether USDT (USDT)
USDT is a cryptocurrency pegged to the U.S. dollar. This makes it a stablecoin because it reflects the price of the U.S. dollar. The price of both currencies is often identical. Most people convert and store their assets in USDT. 
The USDT was developed and issued by Tether, a Hong Kong-based company. The peg to the U.S. dollar is feasible by keeping a collection of commercial paper, fiat cash, fiduciary deposits, treasury bills, and reserve repo notes in a reserve that sums up in value to the United States Dollar. The number of USDT in circulation is always equal to the United States dollars.   
Like most stablecoins, the UDST was created to harmonize the purposes of cryptocurrencies and the stability of fiat currencies. USDT, as a stablecoin can be transferred without restrictions from centralized financial institutions while maintaining the stability of the U.S dollar.  
So why is a stablecoin pegged to the U.S. dollar taking up a spot on the top trending cryptos of 2023? The answer is likely found in the fact that stablecoins are used to hedge against inflation. Since the value of cryptocurrencies is unpredictable, most people convert their digital assets to USDT when they want to hold them. Furthermore, storing fiat in a savings account averages a yield of about 0.6% while lending a stablecoin such as the USDT will rake in higher percentages of about 3% to 20%.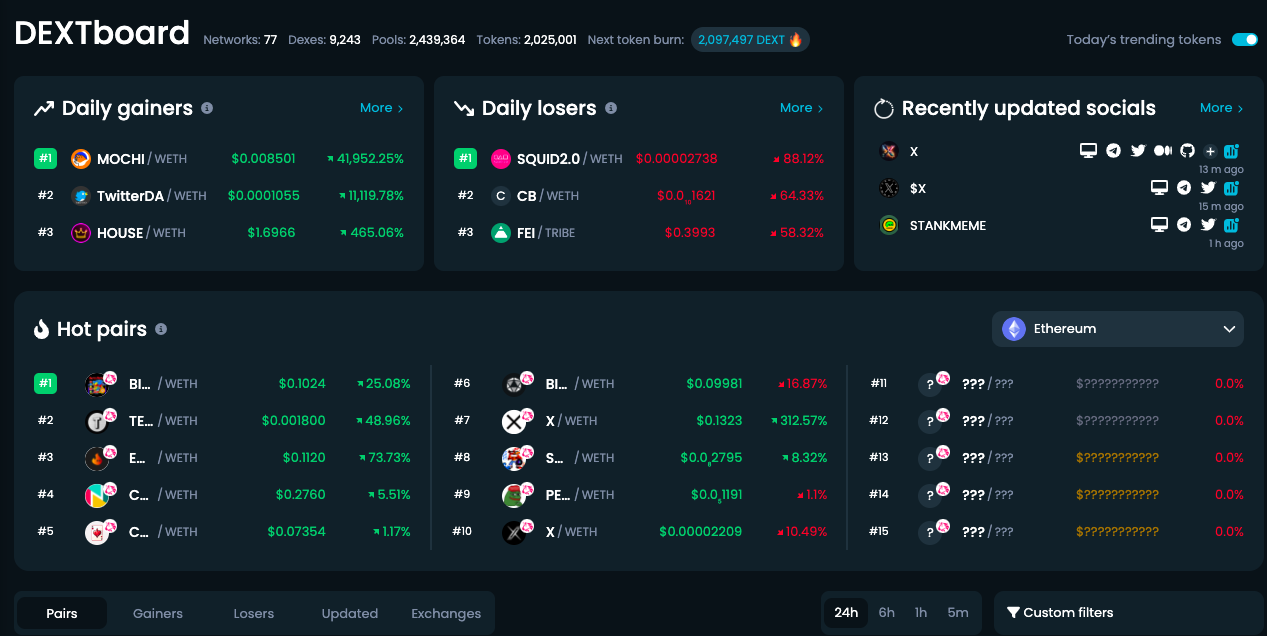 Hot Pairs on DEXTools
The USDT was developed and launched in 2014 by Tether, a Hong Kong-based company which also issues the stablecoin. 
3. Wrapped Solana (WSOL)
Wrapped Solana is the "wrapped" version of the Solana currency which operates on the Solana blockchain. It is the tokenized version of Solana and this means that it can be used for financial transactions without transaction fees on the Solana network. Furthermore, since SOL, the native token of the Solana network cannot be used in decentralized finance, Wrapped Sol is used in its stead in DeFi. 
There is a zero supply of cryptocurrency currently. The last known price of wrapped Solana is $23.25723665. Wrapped Solana makes our list of the Top trending Crypto Coins on DEXtools because of its utility in decentralized finance and its overall value as a token. 
4. X (X)
X is a revolutionary NFT marketplace that operates under the governance and direction of its vibrant community, making it a shining example of a truly decentralized project. Emphasizing self-expression and freedom, X aims to foster an inclusive and open environment, where discrimination has no place, and everyone is welcomed with open arms.
The popularity of the X token stems from its firm stance against centralization, appealing to the growing number of crypto enthusiasts who seek more control over their assets and involvement in the decision-making process. As centralized platforms lose favour, X stands as a beacon of hope, inviting users to join their ranks and embrace decentralization fully.
Built on the Ethereum blockchain, X has not stopped there. They continue to expand their horizons, integrating with additional networks, and reinforcing their commitment to multi-chain compatibility. This move enhances the accessibility and versatility of their platform, accommodating diverse user preferences and paving the way for even broader adoption.
One of the most unique and empowering aspects of X is its approach to NFT artists. Unlike traditional marketplaces, X believes in making artists true stakeholders in their creations. By involving artists and users more deeply in the platform, creativity and innovation flourish, leading to a dynamic and diverse collection of NFTs.
What sets X apart and fuels its trendsetting status is its unyielding focus on the user and community. With policies centred around their users' needs and desires, X has created an ecosystem that prioritizes the interests of those who participate in it. This user-centric approach has garnered immense support, driving the demand for the X token, as its controlled supply strategy amplifies its value.
In summary, X has emerged as a trailblazer in the NFT marketplace arena, embracing decentralization, inclusivity, and community engagement as its core principles. The compatibility with various blockchain networks, unique artist empowerment, and user-centric policies have made X a sought-after platform among crypto enthusiasts seeking a fresh and democratic NFT experience. As the demand for the X token continues to rise, its controlled supply ensures its value appreciation, promising an exciting journey ahead for the entire X community.  
What Might Be The Next Top Trending Crypto?
Launchpad XYZ operates as a crypto presale token, offering crypto enthusiasts a unique opportunity to invest at a discounted price before the LPX token gets listed on public decentralized exchanges (DEXs) and centralized exchanges (CEXs). While it's essential to acknowledge that crypto presales come with their inherent risks, it's worth noting that certain altcoins, like Tamadoge, have achieved substantial returns on investment (ROIs) for early investors. This success has piqued the interest of many, making crypto presales a viable consideration for diversifying one's crypto portfolio.
Before deciding if Launchpad XYZ could be the next crypto poised for explosive growth, it's crucial to delve into its investment thesis and evaluate the project more closely. By understanding the underlying fundamentals and potential advantages of the LPX token, investors can make well-informed decisions.
The investment thesis of Launchpad XYZ likely revolves around several key factors. First and foremost, the discount offered during the presale phase may serve as an attractive incentive for investors seeking early entry into a promising project. Securing LPX tokens at a reduced price can potentially lead to significant gains once the token hits the public markets, especially if the project experiences rapid adoption and appreciation.
Another crucial aspect of the investment thesis might involve the project's underlying technology and use case. Evaluating the real-world problem that the LPX token intends to solve and the market demand for its solution is essential. Understanding the project's potential for mainstream adoption and utility can offer insights into its long-term viability.
🚀 The #LaunchpadXYZ Meme Contest is now live! 🚀

Submit your funniest #Crypto meme for a chance to win $100! 🔥

Here's how to enter:

1️⃣ Follow us on Twitter
2️⃣ Like + RT
3️⃣ Comment with your meme below

⏰ Winner announced Friday 4th of August

Good luck! 👏 #Giveaway #Web3 pic.twitter.com/ZCMpDV0Ezy

— Launchpad.xyz (@launchpadlpx) July 31, 2023
In conclusion, before deciding on whether to invest in Launchpad XYZ, it's essential to take a closer look at the project's investment thesis. Assessing factors like the discount offered during the presale, underlying technology and use case, team expertise, tokenomics, and competitive landscape can help gauge its potential for explosive growth and determine if it aligns with one's investment goals and risk appetite. As with any investment, conducting due diligence and seeking advice from financial experts can help make informed decisions in the fast-evolving and dynamic world of cryptocurrencies.
Read More. 
Wall Street Memes – Next Big Crypto
Early Access Presale Live Now
Established Community of Stocks & Crypto Traders
Featured on BeInCrypto, Bitcoinist, Yahoo Finance
Rated Best Crypto to Buy Now In Meme Coin Sector
Team Behind OpenSea NFT Collection – Wall St Bulls
Tweets Replied to by Elon Musk