Solana price has surged 184% from its December 2022 lows. This positive price action can be attributed to the ongoing Bitcoin rally and the uptrend in equities. However, this upward trend seems to be losing momentum as the Solana crypto has faced multiple rejections from the $27 level.
As the correction continues, the price of Solana may dip below $20 soon. This potential dip in price can be attributed to the negative price action seen in most altcoins this week, as Bitcoin has broken below the $23,000 level. If Bitcoin holds the $22,500 level, bulls are likely to target $25,000.
SOL Crypto Daily Chart
Technical analysis of the Solana crypto chart shows that the $26-$27 region is a huge resistance. This region has become critical due to the confluence of 200 day Moving Average, and previous support now turned into resistance. The daily chart's 200 Moving Average (MA) currently lies around $26.40. Another reason for the rejection is the resistance from the downward trendline, as shown in the chart.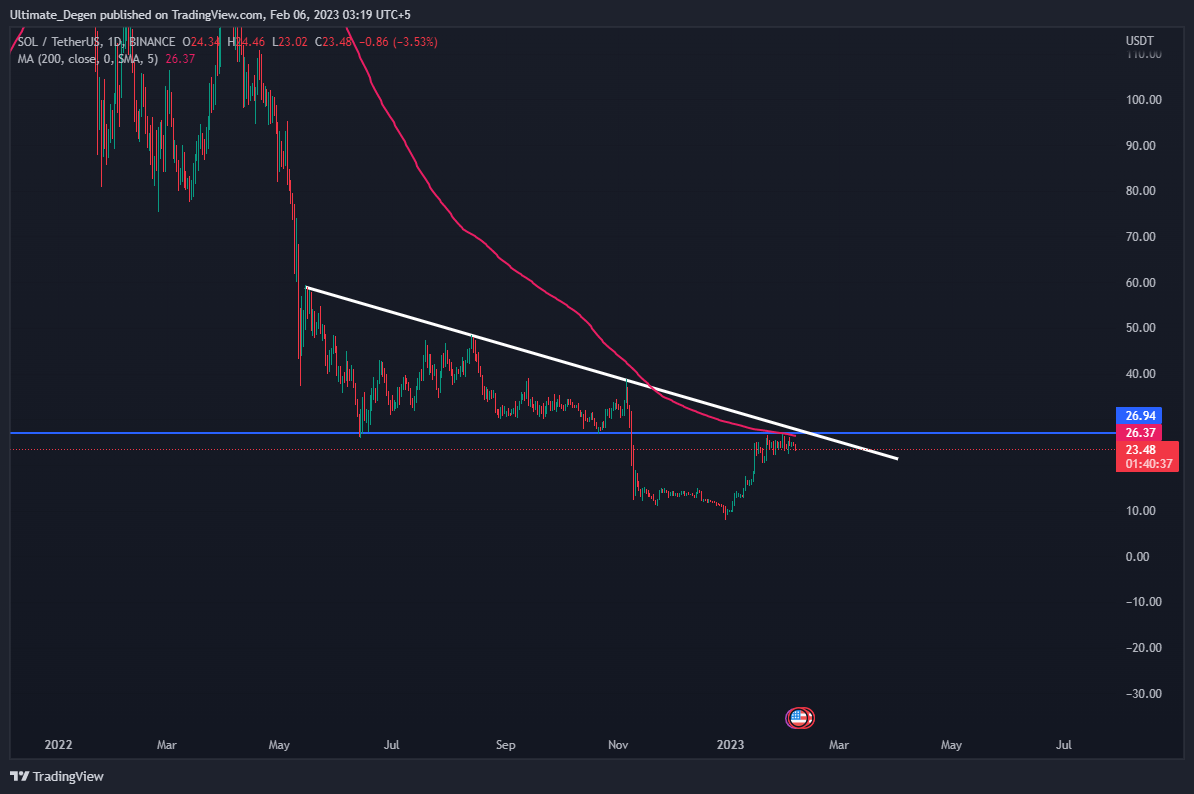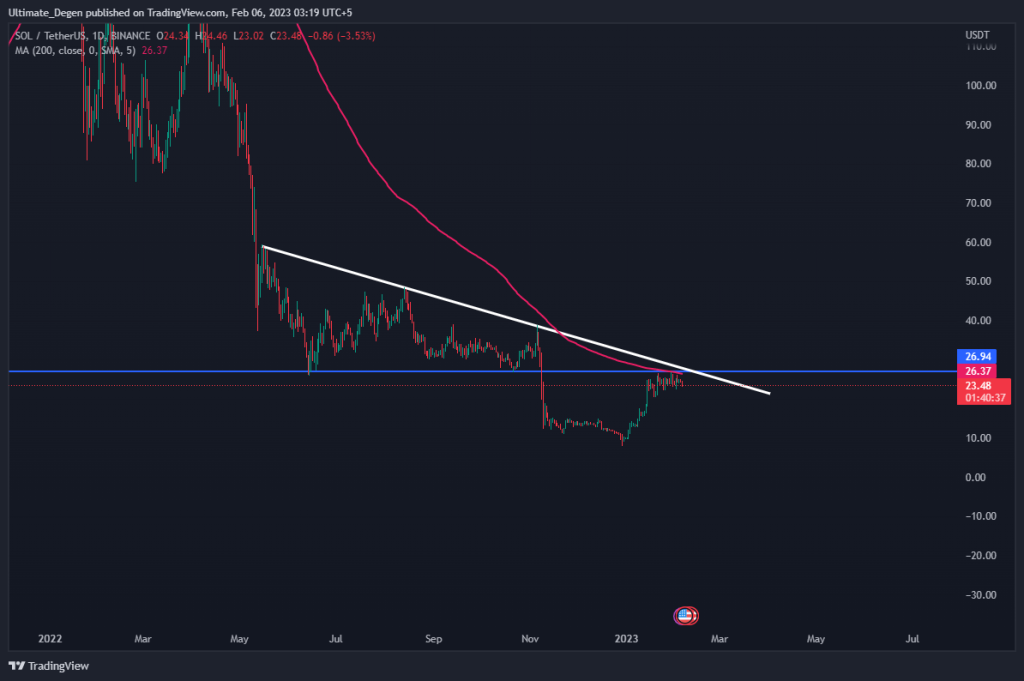 Solana Crypto Price Chart – 4H
On the 4-hour timeframe, Solana price has broken below the upward trendline, and the bears are targeting the $20 and $18 price levels due to a massive imbalance in these regions. However, the price of Solana may receive some support from the 0.38 Fib level at $19.67 and from the 0.5 Fib level at $17.46.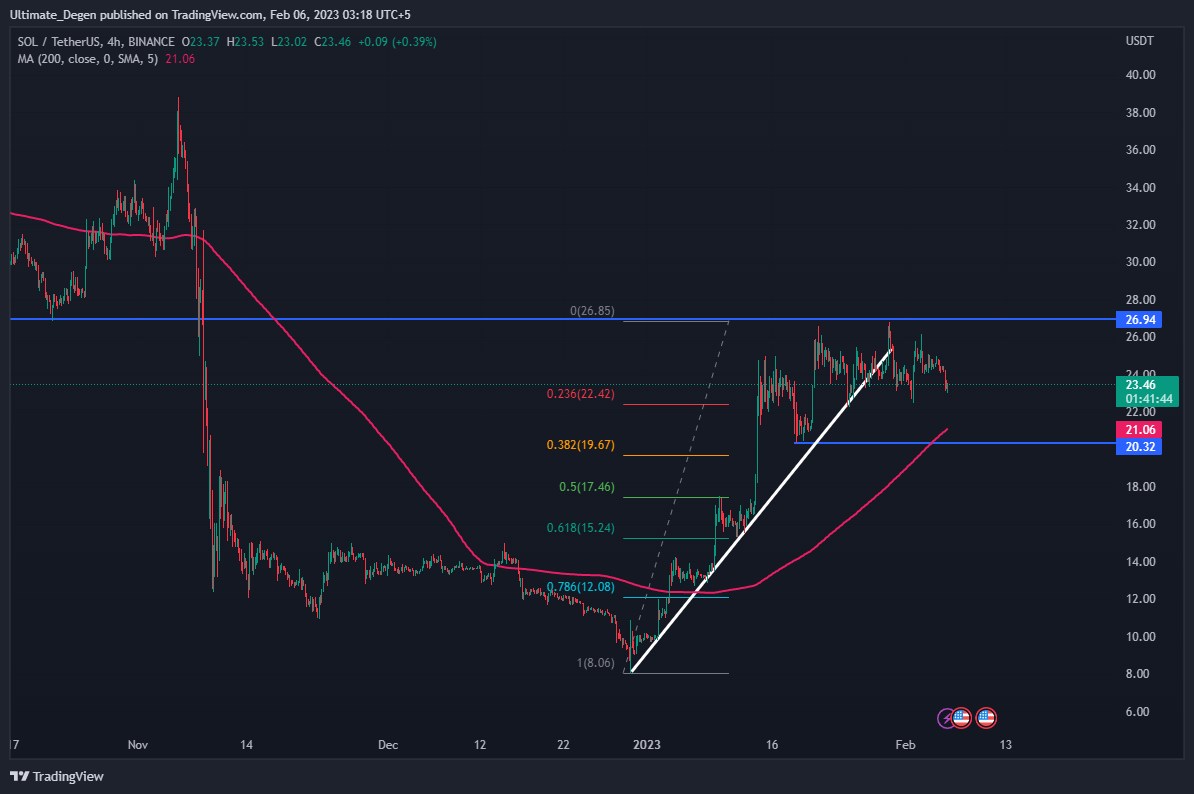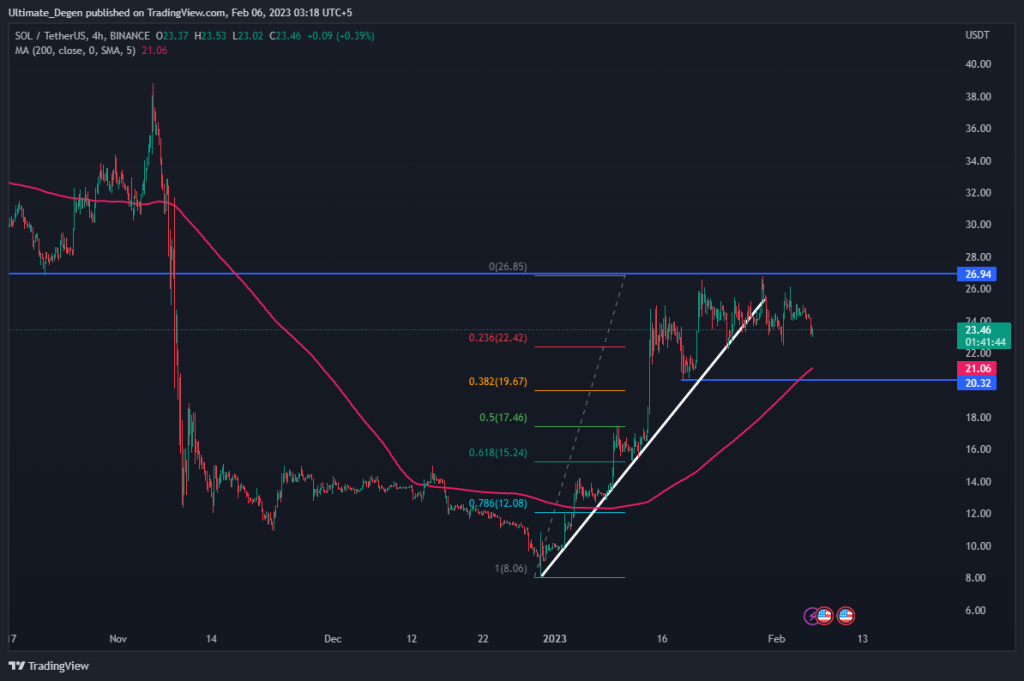 Since the collapse of FTX, most of the Solana news has been quite disappointing. FTX was the biggest proponent of the layer 1 blockchain and had massive investments across the Solana ecosystem. Therefore, SOL crashed below $10 as FTX went bankrupt. Nevertheless, despite its steep fall in 2022, the price has made a strong comeback in 2023, generating nearly 3x returns for the bottom buyers.
In conclusion, while the price of Solana has seen significant growth in January, it is currently facing massive resistance from the 200-day MA. A reclaim of $27 can send the price rocketing toward $38 within a very short time. Altcoin price action also has a solid correlation to Bitcoin price. Therefore, BTC must reclaim the $25,000 resistance to give Solana bulls enough confidence to aim further upside.