The global cryptocurrency market has been flashing green and has remained well-bid at around the $870.30 billion mark. Bitcoin (BTC) and Ethereum (ETH), two of the most valuable cryptocurrencies, surpassed $17,000 and $1,300, respectively, on the day. In addition to this, various other well-known cryptocurrencies saw price increases, including Dogecoin (DOGE), Litecoin (LTC), and Solana (SOL).
However, several positive news stories may have contributed to the upward trend. Many news stories have a positive effect on the cryptocurrency market, whether it's news of the further easing of China's COVID regulations or the Fed's dovish approach.
Fantom (FTM)
The Fantom (FTM) coin has been performing very well and has risen by nearly 25% over the past 30 days. It was being supported by the upbeat crypto market, which was backed by the Fed's dovish stance. Meanwhile, Andre Cronje, Fantom's technical advisor, published a report earlier this week demonstrating the platform's strong financial position, which was seen as another key factor that had a positive impact on the Fantom (FTM) coin.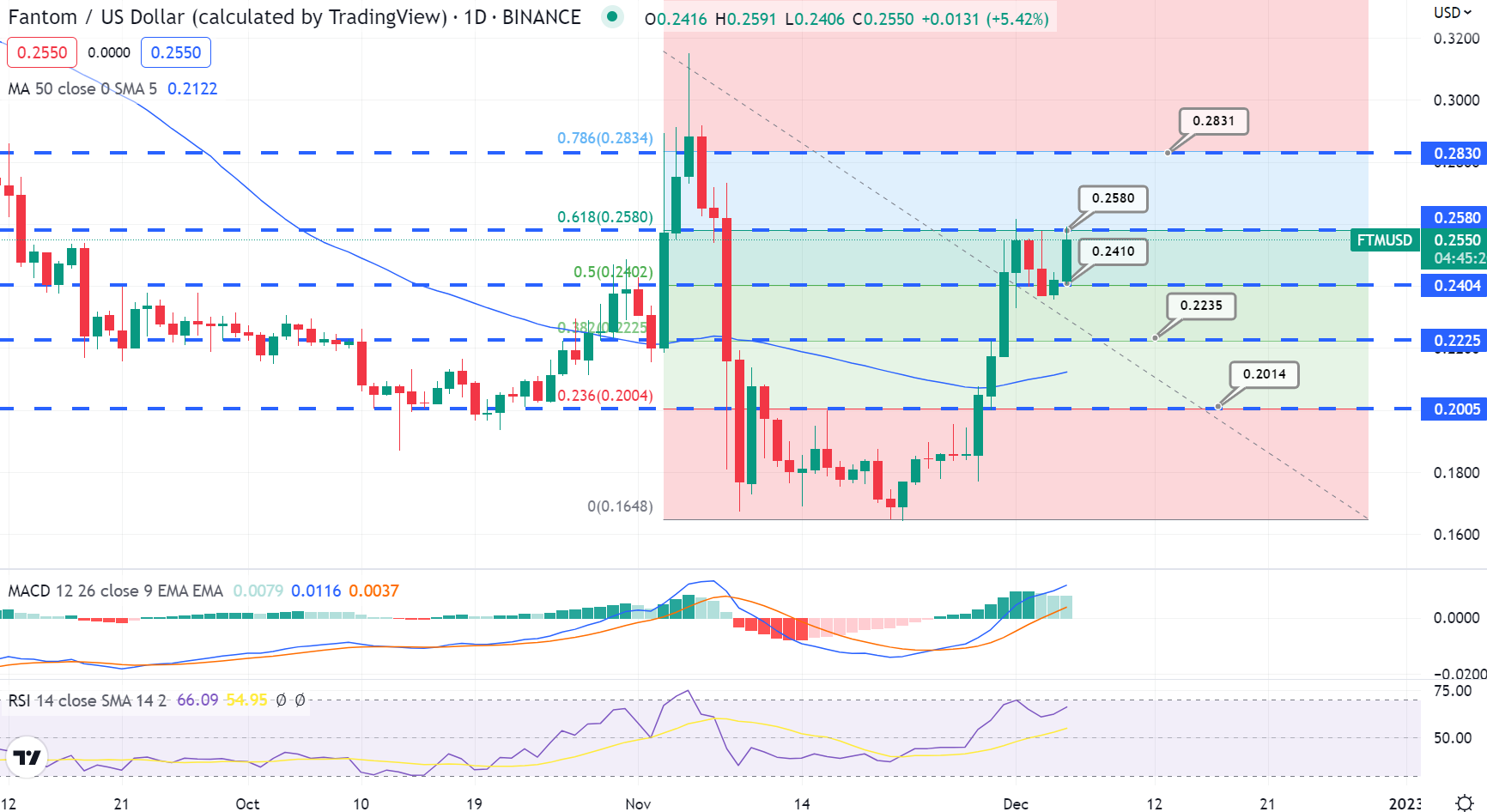 FTM Price Chart – Source: Tradingview
The current Fantom price is $0.2528 with a $99 million 24-hour trading volume. Fantom has increased by over 4% in recent hours. Fantom is now ranked #61 on the market and has a live market capitalization of $643 million. 2,545,006,273 FTM coins are now in circulation, with a maximum supply of 3,175,000,000 FTM coins.
Fantom Suggests Reducing the Token Burn Rate By 75%
Fantom, a directed acyclic graph smart contract platform that provides developers with decentralized finance services, took an important step toward rewarding development on its platform to foster network extension and acceptance.
The Fantom Foundation's new governance plan called for the implementation of the dApp Gas Monetization Program. The strategy aims for a 75% drop in Fantom's current burn rate, with the savings in network costs going to dApp developers on the network.
The proposal, if accepted, would reduce Fantom's burn rate from its present 20% to 5%. Developers will be entitled to the last 15% of gas fees.
#Fantom proposes a 75% reduction in token burn rate to fund #dApp rewards.

If approved, the proposal will bring down Fantom's burn rate from its current 20% to 5%. Developers will claim the remaining 15% of gas fees.

— Satoshi Club (@esatoshiclub) December 2, 2022
The community had opposing opinions about the idea, according to the governance forum. The plan received 50% of the votes, with the remaining 50% voting against it. The vote is expected to conclude on December 8. The proposal specifies that a developer must have completed at least 1,000,000 transactions to be eligible for dApp Affiliate Rewards. A minimum of three months should have been spent by the builder on the Fantom Opera Network.
Therefore, this proposal to cut down the token burn rate was seen as one of the key factors that kept the lid on any additional gains in the Fantom prices.
Fantom's Strong Finance Position
Andre Cronje, Fantom's technical advisor, published a report earlier this week demonstrating the platform's strong financial position. He said that Fantom only hires the necessary number of staff members and keeps operating costs to a minimum. As a result, they do not pay exchange listing fees or influencer marketing costs.
Fantom is rich.

Andre Cronje recently posted an article that included Fantom's current financials, revealing 2 major points: pic.twitter.com/KOJeeGeJ2c

— Forrest (@0xStacker) December 3, 2022
Fantom has about 450 million FTM ($110 million) as of November 2022, along with stablecoins worth $100 million, crypto assets worth $100 million, and non-crypto assets worth $50 million. Fantom could theoretically keep running for the next 30 years if it spends $7 million a year on wages.
Given the diversity of cryptocurrencies available, choosing one to invest in might be difficult. Many investors consider financing low-cost cryptocurrency firms at some point. These digital currencies, which have a token value of $5 or less, may make an excellent addition to most portfolios.
Even though there has been a downturn in the cryptocurrency industry, the currencies listed below are excellent additions to our portfolio.
Dash 2 Trade (D2T)
Dash 2 Trade's innovative concept gives it the chance to emerge as the next well-known cryptocurrency in the volatile world of cryptocurrencies. It is an extremely new crypto company that serves a valuable purpose. Dash 2 Trading offers various trading services using its own D2T cryptocurrency. The Dash 2 Trade social trading and analytics platform uses the D2T ERC-20 token as its native currency. Dash 2 Trade provides distinctive trading signals that suggest effective trading techniques.
The presale of this coin started in the middle of October and raised $500,000 on the first day, bringing the total amount raised to $1 million. A platform for crypto analytics and signaling called Dash 2 Trade has crossed the $8.4 million mark during the pre-sale, more than seven weeks after it started. The pre-sale is going to enter its fourth and final phase, so investors who wish to participate must move immediately.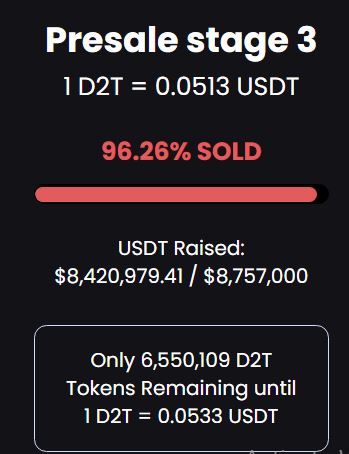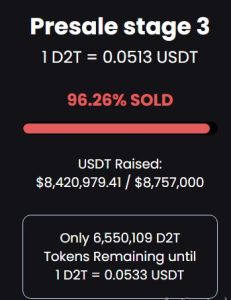 Additionally, Dash 2 Trade provides experts with improved technical indicators, such as trade book data and linear regressions, to aid in risk management and decision-making. According to the whitepaper for Dash 2 Trade, the platform would also evaluate presale activities for new cryptocurrencies based on a number of different factors to make sure that investors could trust the projects.
🎙️ NEW MILESTONE ACCOMPLISHED 🎙️

🔥 $7.5 Million raised 🔥

Only $1,257,000 left until we reach the FINAL stage of this amazing presale!

Don't be late – buy $D2T now! ⬇️https://t.co/PMdwCfAHt1 pic.twitter.com/IcHO6mQ6YZ

— Dash 2 Trade (@dash2_trade) November 30, 2022
During the ongoing D2T token presale, these tokens have already attracted more than 70,000 investors. The third pre-sale for this currency has begun, with 1 D2T token being sold for 0.0513 USDT at the moment. At the time, pre-sale sales totaled more than $8.4 million.
🚨ATTENTION D2T Crew! 🚨

The last 24 hours have been insane!😱

We've raised $350,000, which is more than 250% of our average raise over the past few weeks.🚀

We are heading straight for stage 4, the FINAL stage of this presale. – Only 4% left in this stage! pic.twitter.com/H7ljTg5h6v

— Dash 2 Trade (@dash2_trade) December 5, 2022
It is also worth noting that Dash 2 Trade raised $350,000, which is more than 250% of our average raise over the past few weeks.
Tora Inu (TORA)
The Tora Inu (TORA) project is now in pre-sale and wants to surpass its competitors and take the top spot in 2023. The concept is based on strong tokenomics, which incorporates a redistribution and burn mechanism to make the token deflationary.
Thereby, the TORA token will appreciate in value as more transactions are made possible via the blockchain. According to the redistribution, token owners who keep them in their possession for a long period are expected to get incentives.
⭐️The new star #ToraInu is in town!

🤑#Tora has raised over $400,000!

🚀We will begin preparations for the launch coming on 12/15/2022 with AMA's, Shilling Competitions, Influencer marketing and more.

🐶Stay tuned for the next big #doge token. pic.twitter.com/sAA1TKqu7T

— Tora Inu (@torainucoin) November 30, 2022
The project will include a P2E game that will allow users to interact with the ecosystem and earn money, setting it apart from other initiatives in this field. NFTs will also be incorporated into the game to enable player competition and the possibility of winning tokens as a prize. You may buy the NFTs on the platform using the TORA governance token, which gives users the ability to choose how the project will advance in the future.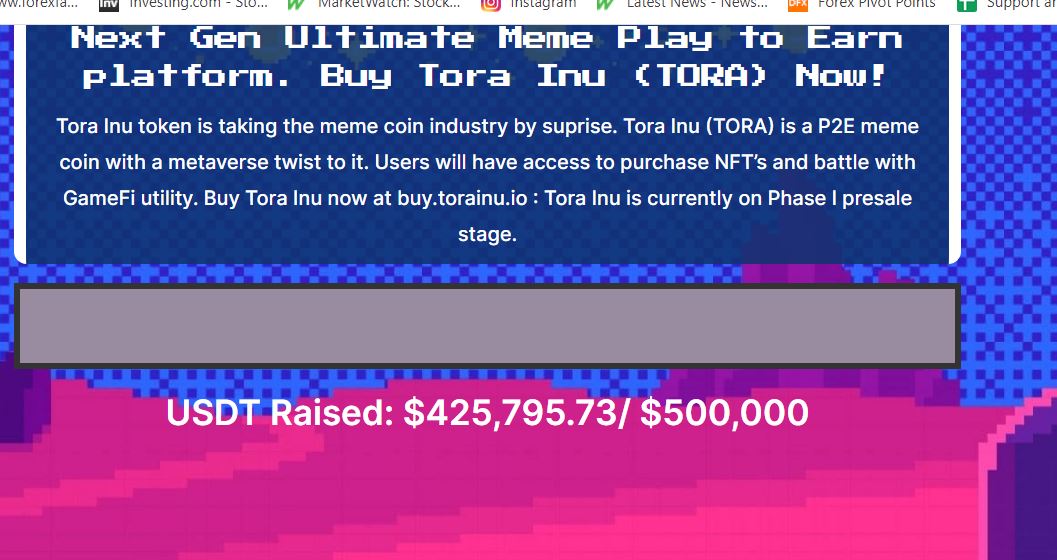 In addition, Tora Inu's metaverse, which will enable users to interact with one another in virtual reality, is scheduled to launch later on the roadmap. Additionally, the Tora Inu team will host additional metaverse regions and advertisements to increase the amount of money flowing through the ecosystem, rewarding holders with buybacks and redistribution fees.
Calvaria (RIA)
Calvaria is a brand-new cryptocurrency initiative that uses play-to-earn economic models. The project's goal is to develop a magnificent card game of war based on video games like Magic the Gathering in order to raise awareness of cryptocurrencies. The platform hopes to be successful by making an effort to bridge the gap between the real world and cryptocurrencies.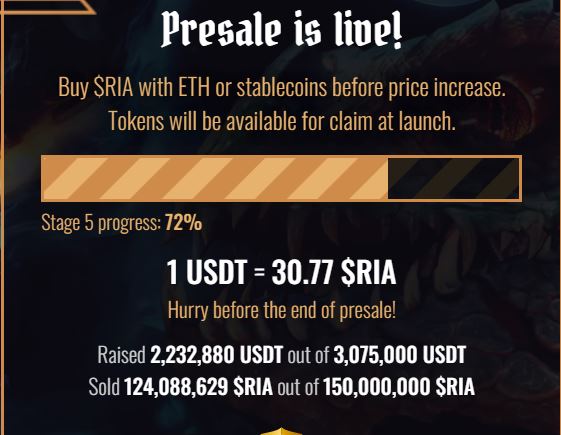 It should also be noted that stage 5 of the RIA presale is currently open to the general public. Calvaria has raised $2,137,934 USDT out of a total of $3,075,000. The USDT has received positive feedback from those who are interested in cryptocurrencies and play for profit.
According to these numbers, 121 million RIA tokens were sold. The Stage 5 presale for this peer-to-peer cryptocurrency startup has already sold over 70% of its tokens. The exchange rate for 1 USDT at the time of writing was 33.33 RIA.
Recently, Calvaria want to remind you to enter our $100K giveaway as our presale draws to a close so you can win even more RIA.
As our presale moving to it's conclusion, we want to remind you to join our $100K giveaway to win even more RIA!
Join competition here: https://t.co/b120uwNeje

Presale LAST STAGE: https://t.co/xB0JFvM6el#CalvariaGang

— Calvaria: Last Stage Presale is Live! ✨ (@CalvariaP2E) December 5, 2022
Tamadoge TAMA:
Tamadoge is the name of the next cheapest cryptocurrency for 2023. It is a recognized form of payment on the Tamaberse platform, which lets users create and raise virtual animals. Following that, you may participate in user fights to climb the TAMA leaderboards and collect rewards each month. TAMA is becoming increasingly well-liked among cryptocurrency enthusiasts thanks to its extensive trading on several platforms, high dependability, and enormous potential.
Buy Your $TAMA On @OKX Today And Become A Holder Of One Of The Best #Memecoins Of All Time!🙌

It's Important To Seize The Opportunities Created By The #BearMarket And Fill Your Bags With Coins That Have Great Potential 😎

Buy Now! ⬇️ https://t.co/eCOwGb8bRD pic.twitter.com/mA5BsGTTHp

— TAMADOGE (@Tamadogecoin) December 5, 2022
The current Tamadoge price is $0.016625 with a $1,274,795 24-hour trading volume. Tamadoge has increased by 4.21% over the past 24 hours. Tamadoge is currently ranked #2710 on the market and has a live market cap of not available. There is no circulating supply and a maximum supply of 2,000,000,000 TAMA coins.
Related:
Dash 2 Trade – High Potential Presale
Active Presale Live Now – dash2trade.com
Native Token of Crypto Signals Ecosystem
KYC Verified & Audited