Development in the crypto world never stops, and blockchain-based projects are becoming more ambitious year after year. The newest crypto projects launching in 2022 bring major advances in play-to-earn crypto gaming, decentralized finance, blockchain-based security, and more.
In this guide, we'll reveal the 10 best new crypto projects for 2022 and take a closer look at what makes each project stand out.
The Top 10 New Crypto Projects for 2022
We've monitored hundreds of crypto project announcements, ICOs, and more to stay on top of the latest developments in blockchain tech. These are the 10 new crypto projects for 2022 that we're most excited about:
Battle Infinity – Metaverse Platform with Fantasy Sports Game and More
Lucky Block – New Crypto Game with Daily Jackpot Drawing
ApeCoin – A New Crypto Project Built around Bored Ape Yacht Club
Colony Lab – Ecosystem Accelerator for the Avalanche Blockchain
STEPN – Bringing Health and Wellness onto the Blockchain
Guild of Guardians – Play-to-earn Crypto Game for RPG Fans
Djed– An Algorithmic Stablecoin on the Cardano Blockchain
Hedera Hashgraph – A New Crypto Built on a Faster, More Secure Blockchain
MapMetrics – Earn Cryptocurrency while Driving
Fantom – Ultra-fast Blockchain for dApps and More
Best New Crypto Projects Profiled
What makes these new crypto projects so exciting? We'll explain what each project is all about and why we think it's worth your attention.
1. Battle Infinity – Metaverse Platform with Fantasy Sports Game and More
Did you know that Battle Infinity is the best crypto to buy during the crash?

Battle Infinity is one of the most exciting new metaverse crypto projects of 2022. The Battle Infinity platform, which is led by a development team in India, seeks to create the 'multiverse of metaverse' by allowing game developers to host their own mini-games on the platform.
Battle Infinity is kicking things off with its own fantasy sports game called IBAT Premier League. Players will be able to build their own fantasy teams, compete against other players, and earn cryptocurrency in Battle Infinity's native token, IBAT, as a reward. IBAT Premier League's first fantasy sports league will be for cricket and will be based on the popular Indian Premier League.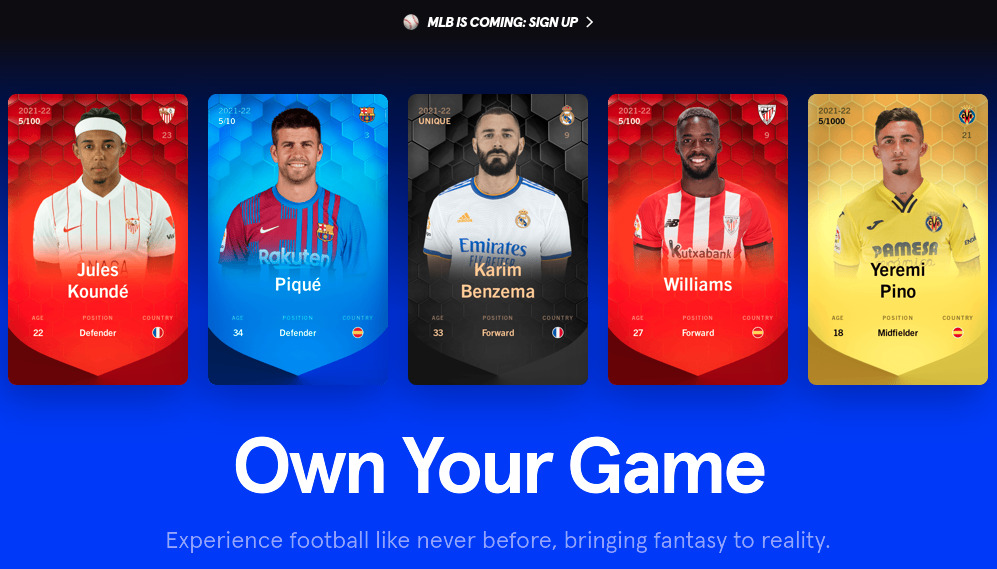 There's much more to the Battle Infinity metaverse than just gaming. The platform will include a decentralized marketplace where players can trade in-game NFTs and purchase upgrades using IBAT tokens. Battle Infinity will also enable staking, whereby users can lock up their holdings for a variety of timeframes and earn rewards in the process.
Battle Infinity's IBAT presale launched on July 11, 2022 and will run for 90 days. Anyone can purchase IBAT tokens using BNB at a rate of 1 BNB per 166,666 IBAT tokens. Presale investors don't need to worry about vesting or lock-up periods, and IBAT is trading at a discount to the open-market BNB rate at current prices.
Battle Infinity has a 7-phase development plan. Most of Phase 3 has been completed thus far.
2. Lucky Block – New Crypto Game with Daily Jackpot Drawing
Lucky Block is a play-to-earn crypto game that offers players a chance to win money on a daily basis. Players can purchase tickets into the daily jackpot drawing for $5 worth of LBLOCK tokens. In addition, LBLOCK token holders who connect their wallet to the Lucky Block app will receive a free daily entry.
Each day's jackpot is split into several components. The majority goes to the drawing winner, of course. But 10% is reserved for charity, and LBLOCK holders get to vote each day on which charity the money should go towards. In addition, another 10% is distributed to LBLOCK token holders as a reward for supporting the platform. So even if you don't win the jackpot, you can still earn from this game. Lucky Block had one of the best crypto presales of 2022 having sold out earlier than expected.

In addition to the main drawing, Lucky Block has also launched an NFT-based jackpot. This drawing is limited to 10,000 participants, each of whom must own one of Lucky Block's Platinum Rollers Club NFTs. If you own one of these NFTs, you have a 1 in 10,000 chance of winning $10,000 every single day for as long as you hold onto the NFT.
Lucky Block launched its main jackpot and NFT drawings in mid-May, and new users can now buy LBLOCK tokens directly through Lucky Block's website. The token is also available on decentralized exchanges like PancakeSwap. The jackpots are funded by a 12% transaction fee on LBLOCK purchases as well as by paid entries.
3. ApeCoin – A New Crypto Project Built around Bored Ape Yacht Club
ApeCoin is a new crypto project built on the popularity of the Bored Ape Yacht Club (BAYC) and Mutant Ape Yacht Club (MAYC) collections. ApeCoin is essentially a governance token created by Yuga Labs, the company behind these NFT projects, to give the community a say in where the bored apes should go next.
BAYC and MAYC owners received free ApeCoin when the cryptocurrency launched, and it can now be bought and sold freely on most major crypto exchanges. As an ERC-20 token, ApeCoin is easy to transfer and can be stored in virtually any wallet that can hold Ethereum.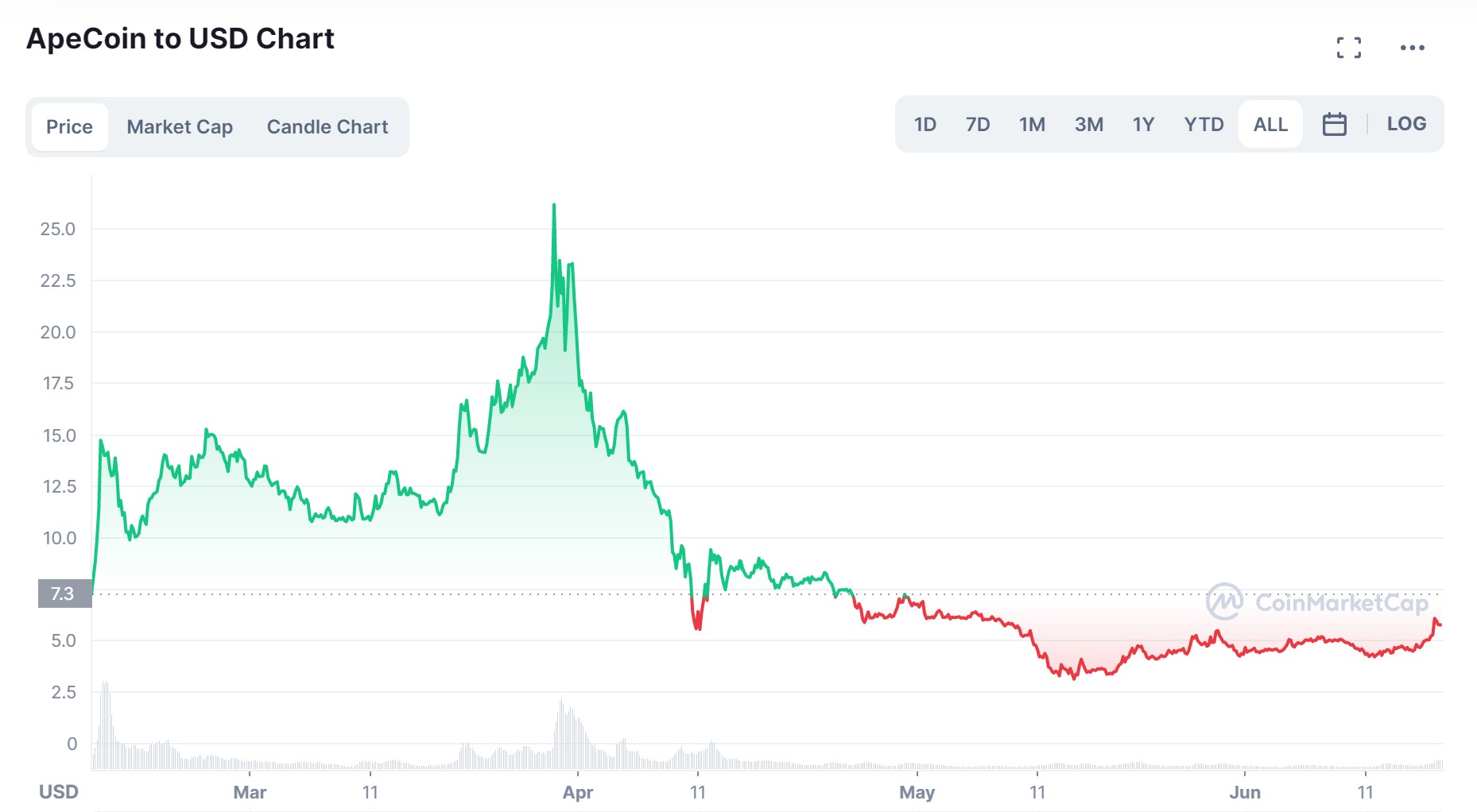 What's really exciting about ApeCoin is its potential role in the Otherside metaverse that Yuga Labs is currently developing. While Otherside has not yet launched, it could use ApeCoin as the virtual world's primary currency. Any play-to-earn games that exist within the Otherside metaverse could also potentially distribute ApeCoin as a reward to players.
4. Colony Lab – Ecosystem Accelerator for the Avalanche Blockchain
Colony Lab is one of the best new crypto projects for everyday investors who want to compete with venture capitalists in the crypto space. This DeFi project enables anyone to invest in early-stage crypto startups on the Avalanche blockchain. That means that retail investors who are normally locked out of projects until an ICO or launch can now get in on the ground floor.
If it's successful, Colony Lab could also have a big impact on the usability of the Avalanche blockchain. The project aims to support a wide range of dApps and other startups built on Avalanche, which could get the flywheel spinning and bring even more users and projects to Avalanche. More broadly, by crowdsourcing early-stage funding, Colony Lab could make Avalanche the best place for crypto founders to find financing.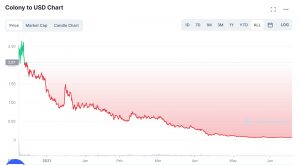 For now, Colony Lab doesn't allow investors to pick and choose individual projects to invest in. Rather, users stake CLY tokens and get rewards in the cryptocurrencies of the projects that the Colony Lab fund supports. However, Colony Lab intends to use its DAO to enable the community to select what projects to support in the future.
5. STEPN – Bringing Health and Wellness onto the Blockchain
STEPN is a 'move-to-earn' crypto game that rewards people for being active. During every 24-hour period, players can accrue crypto rewards for all of the walking, jogging, or running they do. Rewards are paid out in the game's native cryptocurrency, Green Satoshi Tokens (GST).
How much you can earn with STEPN depends on two things. The first is what type of NFT sneaker you have. STEPN's sneakers each offer different characteristics, like speed boosts, resilience to wear and tear, and other features that can make them more valuable.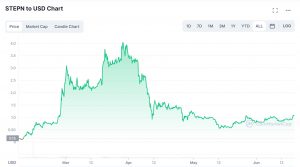 The other thing that matters is energy. Each player has to use energy to earn crypto rewards from their activity, and the amount of energy you have is directly tied to how many NFTs you own. So, there's a balance to be struck between buying STEPN sneakers and earning crypto rewards.
STEPN's game is very unique. It's built on the Solana blockchain and tokens are currently available on most major exchanges.
6. Guild of Guardians – Play-to-earn Crypto Game for RPG Fans
Guild of Guardians is a new RPG (role-playing game) built on the blockchain. The game, which hasn't yet been released, promises players an exciting and deep world of dungeons, mystical creatures, and monsters to battle. Already, there are more than 130,000 people signed up for the Guild of Guardians waitlist.
What's neat about Guild of Guardians is that much of the loot inside the game is in the form of NFTs. This means that as players explore the world that Guild of Guardians' developers have built, they can collect valuable collectibles that they will fully own. NFTs are tradeable at the Guild of Guardians marketplace, enabling players to upgrade their characters or convert their loot to crypto.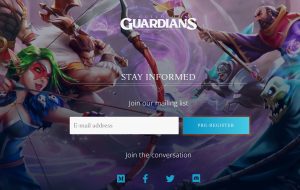 Guild of Guardians is expected to be free to play, making it accessible to first-time gamers as well as more experienced RPG players. The development team has not yet announced a launch date.
7. Djed – An Algorithmic Stablecoin on the Cardano Blockchain
Djed is an algorithmic stablecoin pegged to the US dollar. That means that 1 Djed is equal to 1 dollar, and always should be.
At first glance, Djed has a lot in common with Terra, the algorithmic stablecoin that melted down in spectacular fashion earlier in 2022. Djed's peg to the dollar is dependent on users creating and burning a reserve coin, Shen, just like Terra's peg was based on users creating and burning Luna.
However, Djed has built in some key safeguards that the team behind Terra left out. This crypto project has built-in Shen bonuses that come into play to protect Djed's peg during periods of high volatility. Shen minting is also limited when inflation gets too high, preventing the death spiral that caused the price of Luna to collapse.
While many investors are wary of algorithmic stablecoins after what happened to Terra, Djed aims to prove that algorithmic stablecoins can truly be the future of digital money. In fact, this could be one of the best coins to buy during the crypto crash.
8. Hedera Hashgraph – A New Crypto Built on a Faster, More Secure Blockchain
Hedera Hashgraph is a new type of blockchain that promises faster and more secure transactions than any existing blockchain technology. While that might sound like a bold claim, this project is backed by companies like Google, Boeing, and IBM – so there's likely some truth to the platform's promises.
Hedera Hashgraph is distinct from other blockchains in that only a pre-approved group of nodes are involved in validating transactions. These nodes are trusted entities within the network, and the fact that they're pre-assigned enables the platform to process transactions much more efficiently than other blockchains.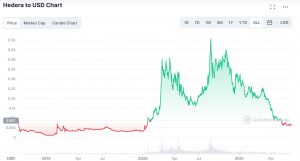 Interestingly, Hedera Hashgraph doesn't require grouping data into "blocks." Instead, data is "gossiped" out to participants in the network along with timestamps and validation information. While Hedera Hashgraph is the first platform to use this new consensus system, other platforms could follow in its footsteps in the years ahead.
9. MapMetrics – Earn Cryptocurrency while Driving
MapMetrics is a blockchain-based dApp for drivers. The app enables anyone to join and find the best way to get from Point A to Point B. Along the way, MapMetrics automatically updates your best route in response to information contributed by the app's users.
What's more, MapMetrics incentivizes drivers to provide details about traffic, accidents, and other information that makes navigation more efficient. When you connect a "Special Position Tracker" (SPT) – essentially a blockchain-enabled GPS that you keep in your vehicle – you can earn cryptocurrency as you drive and contribute real-time data to MapMetrics.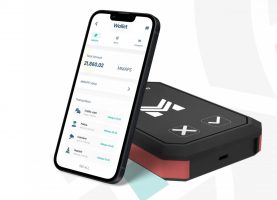 Each SPT comes with an NFT to indicate that you own it and that its data corresponds to your vehicle. MapMetrics currently makes SPT devices for cars, motorcycles, and bicycles.
You must pay for an SPT, but the MapMetrics app itself is free to use if you just want to plan a route using data contributed by the community.
10. Fantom – Ultra-fast Blockchain for dApps and More
Fantom is a new crypto project that's looking to replace Ethereum as the blockchain of choice for processing smart contracts. Fantom's number one benefit is the platform's speed. Transactions that take minutes to process on Ethereum are verified in seconds on Fantom.
What makes Fantom so fast is that transactions are processed asynchronously. That means that any node on the Fantom blockchain can process a transaction without having to work through an entire queue of transactions first. Fantom also has some neat safeguards built in so that it's able to keep processing data even if up to one-third of transaction data is fraudulent.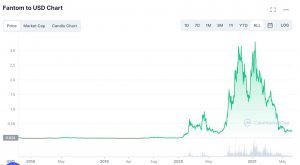 Fantom is cross-compatible with Ethereum, meaning that any dApps built on Ethereum can easily be transferred onto the Fantom blockchain. The Fantom token, FTM, is available as an ERC-20 token and can be stored in almost any major crypto wallet.
How to Find New Crypto Projects
So many new crypto projects are in development that it can be hard to keep track of them all – or, for that matter, to find new crypto projects as they're first announced. The good news is that there are several platforms dedicated to new crypto projects and several other simple ways to stay on top of the latest news in the crypto world.
Here are some of the best ways to find new crypto projects:
Social Media
Many new cryptocurrencies are announced on social media before anywhere else. Often, these announcements are made on Twitter or Reddit, where they may appear in forums dedicated to cryptocurrency, blockchain technology, decentralized finance, or gaming.
You may also be able to spot new projects on platforms like Telegram or Discord. Many crypto projects use Discord channels to provide updates to their community.
Crypto Exchanges and NFT Marketplaces
Crypto exchanges and NFT marketplaces are typically where you would go to buy or sell established crypto projects. But in many cases, exchanges and marketplaces can be hubs for new projects as well.
Many new projects work hard to get their coin listed on an exchange or their NFT offered at a marketplace. In addition, a number of exchanges have features to help users discover new coins. NFT marketplaces may have a page for NFT collections launched in the last several days.
Specialized Platforms
There are some specialized platforms that focus specifically on aggregating data about the crypto market and helping users find new and exciting crypto projects.
For example, CoinMarketCap provides details about all new cryptocurrencies and ICOs, regardless of whether they're available at major exchanges yet. Coinsniper.net is a platform that vets new crypto projects and helps investors quickly recognize scams.
Conclusion
The best new crypto projects for 2022 are pushing the boundaries of what can be achieved using blockchain technology. Some projects are taking play-to-earn games to the next level, while others are improving the security and speed of digital transactions.
If you're looking for the best new crypto project right now, check out Battle Infinity. This new project is building the first fantasy sports game in the metaverse and has plans to launch a rich ecosystem of play-to-earn games. Battle Infinity's IBAT token is currently on pre-sale so you can invest today!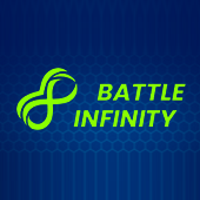 FAQs
What are the newest crypto projects?
What is the best new cryptocurrency?
What cryptos will rise in 2022?
How do I find new cryptos?
How do I invest in brand new cryptocurrencies?