Share:

Bitcoin price is up almost 1% amid spreading news that the US SEC will not be appealing the Grayscale victory.
Trading volume continues to increase, up 61% thus far despite the characteristic weekend lull.
It comes as investors anticipate Spot BTC ETF to come soon, possibly driving Bitcoin price higher.
Bitcoin (BTC) price is trading with a bullish bias,  holding above a crucial support level into the weekend as chatter about Bitcoin exchange-traded fund (ETF) continues to span Crypto X. It comes on the back of conclusion that the US Securities and Exchange Commission (SEC) may not be appealing the recent Grayscale victory as the deadline has elapsed.
Also Read: SEC will not appeal court ruling on Grayscale GBTC conversion to spot Bitcoin ETF
Bitcoin price surges as SEC misses deadline
Bitcoin price is up 0.5% in the last 24 hours, with a 61% increase in trading volume over the same timeframe. The king of crypto continues to consolidate along an ascending trend line, holding above this bullish formation with prospects for fresh increases.
To begin with, the Relative Strength Index (RSI), a momentum indicator, has deviated from its previous downtrend, pulling north to show buying pressure is rising. Further, the Awesome Oscillator (AO) histograms are showing green, steadily edging towards the positive territory. Also, the Parabolic Stop and Reverse (SAR) indicator has flipped to track Bitcoin price from below at $25,186, adding credence to the bullish outlook.
With Bitcoin price holding above the ascend trendline at $26,862, the upside potential for BTC remains plausible, bolstered by optimistic technical indicators. With this, the people's crypto could extend to tag the $28,731 resistance level, or in a highly bullish case, complete a 10% leap above current levels to confront the $29,891 supplier congestion level. A decisive three-day candlestick close above this level would bring the $32,000 psychological barrier in sight.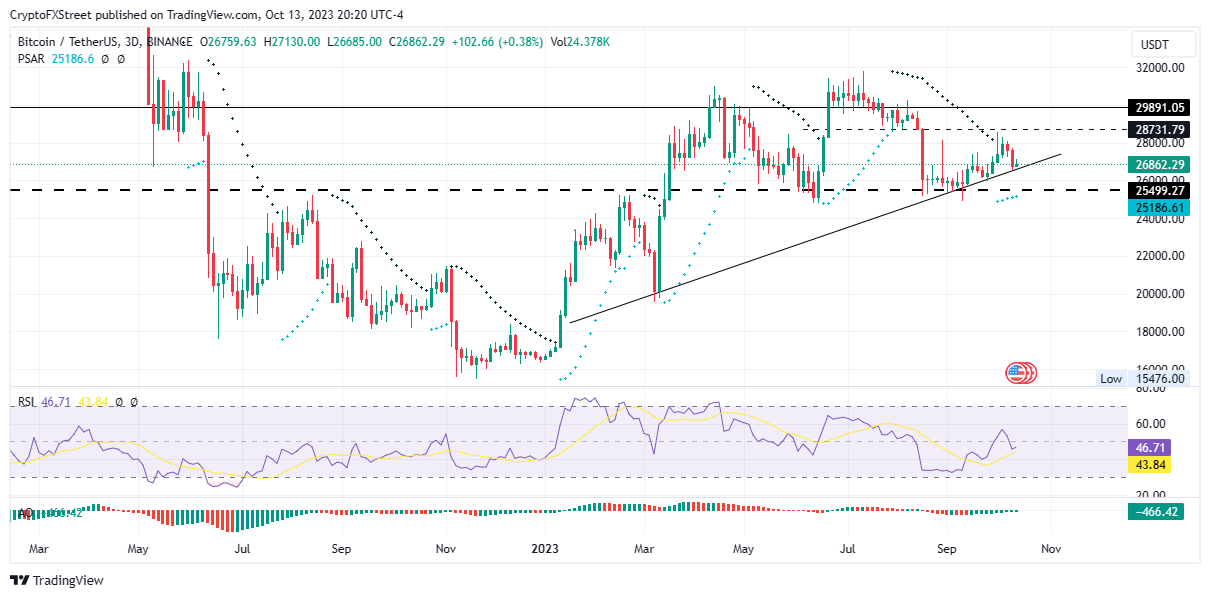 BTC/USDT 3-day chart
Conversely, early profit-taking could send Bitcoin price below the critical support offered by the ascending trendline around the current price of $26,862. While a break below this level could inspire the bears, the upside potential would only be invalidated once BTC records a three-day candlestick close below the $25,499 support level. This could expose BTC to a retest of the $24,000 psychological level.
Also Read: Can BTC bears challenge crypto's 2023 bull rally?
Bitcoin, altcoins, stablecoins FAQs
Bitcoin is the largest cryptocurrency by market capitalization, a virtual currency designed to serve as money. This form of payment cannot be controlled by any one person, group, or entity, which eliminates the need for third-party participation during financial transactions.
Altcoins are any cryptocurrency apart from Bitcoin, but some also regard Ethereum as a non-altcoin because it is from these two cryptocurrencies that forking happens. If this is true, then Litecoin is the first altcoin, forked from the Bitcoin protocol and, therefore, an "improved" version of it.
Stablecoins are cryptocurrencies designed to have a stable price, with their value backed by a reserve of the asset it represents. To achieve this, the value of any one stablecoin is pegged to a commodity or financial instrument, such as the US Dollar (USD), with its supply regulated by an algorithm or demand. The main goal of stablecoins is to provide an on/off-ramp for investors willing to trade and invest in cryptocurrencies. Stablecoins also allow investors to store value since cryptocurrencies, in general, are subject to volatility.
Bitcoin dominance is the ratio of Bitcoin's market capitalization to the total market capitalization of all cryptocurrencies combined. It provides a clear picture of Bitcoin's interest among investors. A high BTC dominance typically happens before and during a bull run, in which investors resort to investing in relatively stable and high market capitalization cryptocurrency like Bitcoin. A drop in BTC dominance usually means that investors are moving their capital and/or profits to altcoins in a quest for higher returns, which usually triggers an explosion of altcoin rallies.
Short-term bullish driver for Bitcoin
Meanwhile Bitcoin price hindwings come as the US SEC missed its deadline to appeal the court ruling to convert Grayscale's Bitcoin Trust (GBTC) to an ETF. According to a Reuters report, the commission missing the deadline points to a possible intention to accept the court's decision to approve the conversion of the GBTC to an ETF.
US SECURITIES AND EXCHANGE COMMISSION WILL NOT BE APPEALING COURT DECISION ON GRAYSCALE BITCOIN ETF -SOURCE FAMILIAR – RTRS

— Tree News (@News_Of_Alpha) October 13, 2023
With signs that the SEC is finally bulging, the crypto market has witnessed renewed optimism, plunging some liquidity into the market. Evidence of this is the 0.5% surge in total market capitalization over the last 24 hours, to the current reading of $1.05 trillion, CoinMarketCap data shows.
Crypto ETF FAQs
An Exchange-Traded Fund (ETF) is an investment vehicle or an index that tracks the price of an underlying asset. ETFs can not only track a single asset, but a group of assets and sectors. For example, a Bitcoin ETF tracks Bitcoin's price. ETF is a tool used by investors to gain exposure to a certain asset.
Yes. The first Bitcoin futures ETF in the US was approved by the US Securities & Exchange Commission in October 2021. A total of seven Bitcoin futures ETFs have been approved, with more than 20 still waiting for the regulator's permission. The SEC says that the cryptocurrency industry is new and subject to manipulation, which is why it has been delaying crypto-related futures ETFs for the last few years.
Bitcoin spot ETF has been approved outside the US, but the SEC is yet to approve one in the country. After BlackRock filed for a Bitcoin spot ETF on June 15, the interest surrounding crypto ETFs has been renewed. Grayscale – whose application for a Bitcoin spot ETF was initially rejected by the SEC – got a victory in court, forcing the US regulator to review its proposal again. The SEC's loss in this lawsuit has fueled hopes that a Bitcoin spot ETF might be approved by the end of the year.
---