Solana (SOL) is a prominent player with an intriguing trajectory in the crypto space. The token's future seems promising with the proliferation of decentralized applications (Dapps) as blockchain accommodates increased use cases.  Is the path for Solana to $30 clear? Does Bitcoin Minetrix's (BTCMTX) pre-sale hold even more significant potential for investors? 
Solana Market Overview
Solana, holding a spot price of $22.17 as of October 11, 8:47 a.m. EST, is seeing a reduction in volatility as the Bollinger bands converge. The volatility levels are, however, likely to rise again in the future owing to the increase in Solana Dapp activity, which could directly affect the levels.

The 50-day moving average has exceeded the 100-day moving average, forming a golden cross indicating bullish momentum on Solana. Bulls could drive Solana to $30K if all market conditions remain favorable. The MACD is moving towards a shift to the green zone as bearishness wears off Solana, according to 12-hour charts from DEXtools.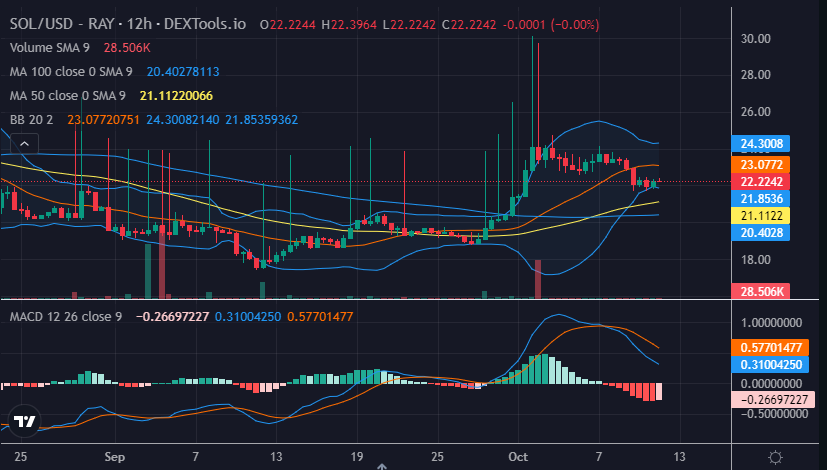 Solana (SOL) is on a promising trajectory as decentralized applications (DApps) flourish on its high-performance blockchain platform. However, as Solana continues to make waves, Bitcoin Minetrix continues to catch investors' eyes with its exiting BTCMTX pre-sale. 
Bitcoin Minetrix Achieves $1M in Funding
Bitcoin Minetrix has attained a significant achievement, amassing more than $1,000,000, solidifying its expanding footprint within the domain of cryptocurrency mining. This endeavor is charting remarkable progress in exploring the Bitcoin sphere, harnessing avant-garde methodologies and cloud-based mining to deliver an uncomplicated and easily accessible portal to the realm of digital currency.
Big News 📢#BitcoinMinetrix has raised over $1,000,000! pic.twitter.com/LYmTgxfH51

— Bitcoinminetrix (@bitcoinminetrix) October 11, 2023
Participants can seize $30,000 in Bitcoin Minetrix tokens ($BTCMTX) through its mine drop. With the possibility of clinching one of ten $3,000 rewards, this event guarantees an electrifying escapade for cryptocurrency fans.
Be Aware of Scams
Amid the recent hype on Bitcoin Minetrix and Solana's rise in Dapp activities, scammers have taken center stage in trying to defraud customers. In response, Bitcoin Minetrix has issued a crucial reminder for all cryptocurrency enthusiasts to exercise vigilance. The firm advises users to safeguard their investments by rigorously validating information from trustworthy sources. It also advises avoiding sharing sensitive data and promptly reporting any suspicious accounts across your path.
Alert on #BitcoinMinetrix Scams! ⚠️

Always keep these in mind:

🔒 Validate information from legitimate sources.
❌ Avoid divulging sensitive data.
👀 Report suspicious accounts promptly.#CryptoSecurity pic.twitter.com/FYqwUmmxXU

— Bitcoinminetrix (@bitcoinminetrix) October 11, 2023
Why Choose Bitcoin Minetrix
With many similar service providers, choosing Bitcoin Minetrix can be a tough call. However, with its amazing attributes, the firm stands out as an excellent pick-out option. One of the noteworthy attributes of Bitcoin Minetrix is its cloud mining strategy. This presents many advantages, especially for new individuals venturing into cryptocurrencies. Cloud mining offers a seamless gateway, obviating users' need to invest in high-priced hardware.
This cost-effective method ensures that individuals keen on cryptocurrency involvement can do so without straining their financial resources. Additionally, users can relish the benefits of cloud mining from the comfort of their domiciles, devoid of concerns about spatial constraints, cacophonous environments, or the excessive heat typically associated with conventional mining configurations.
Bitcoin Minetrix has invested significant efforts in crafting a user-friendly experience open to a broad audience. It paves an uncomplicated route to cryptocurrency mining, even for those lacking technical expertise. Eliminating initial hardware expenditures is a substantial boon, erasing barriers to entry and rendering crypto mining more inclusive.
Furthermore, Bitcoin Minetrix users can anticipate a serene, noiseless, and heat-free journey. This amplifies the general comfort and convenience of the mining procedure. This user-centric approach underscores Bitcoin Minetrix's dedication to democratizing and enhancing the enjoyability of cryptocurrency mining.
While Bitcoin Minetrix persists in expanding and pursuing uncharted territories in cryptocurrency mining, its unwavering dedication to inclusivity and user-friendliness is an unwavering impetus. This stance renders it a compelling option for both lovers and investors of the crypto world, as Solana's $30 prospects remain alive.
Related News
New Crypto Mining Platform – Bitcoin Minetrix
Audited By Coinsult
Decentralized, Secure Cloud Mining
Earn Free Bitcoin Daily
Native Token On Presale Now – BTCMTX
Staking Rewards – Over 1,000% APY