SOL, the native token that powers the Solana blockchain, was last trading a little over 1.0% lower on the day on Wednesday in the $13.20 area, having been as high as the $14.20 area earlier in the session. That still leaves the cryptocurrency up around 33% since the start of the week and around 66% higher versus its late 2022 lows around $8.0 per token. Price predictions have subsequently become more bullish. 
The cryptocurrency's latest surge has seen it blitz back to the north of its 21 and 50-Day Moving Averages at $11.60 and $12.75 respectively, with the bulls now eyeing a test of resistance in the $15 area. A break above this level could open the door to a long-term resistance in the $19 area.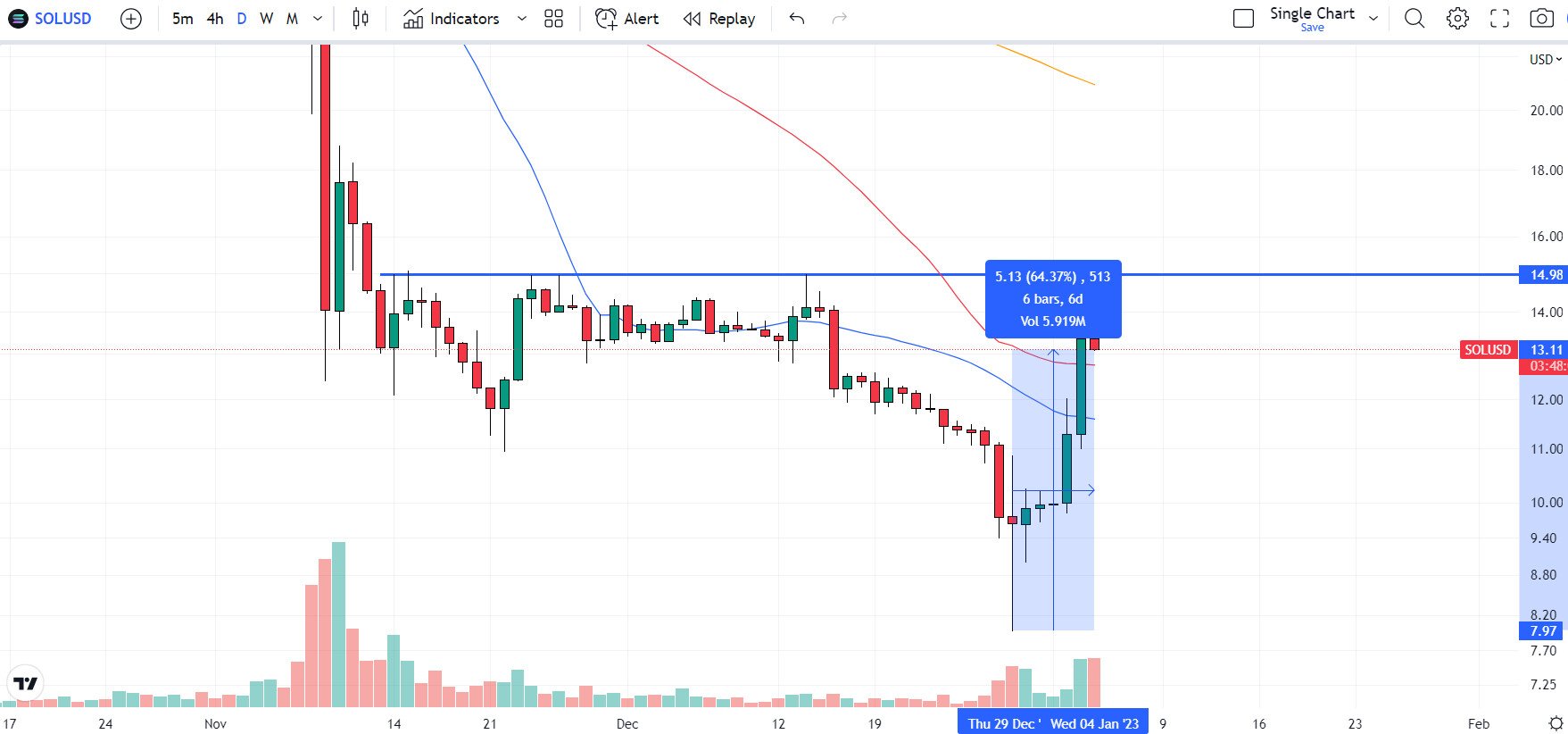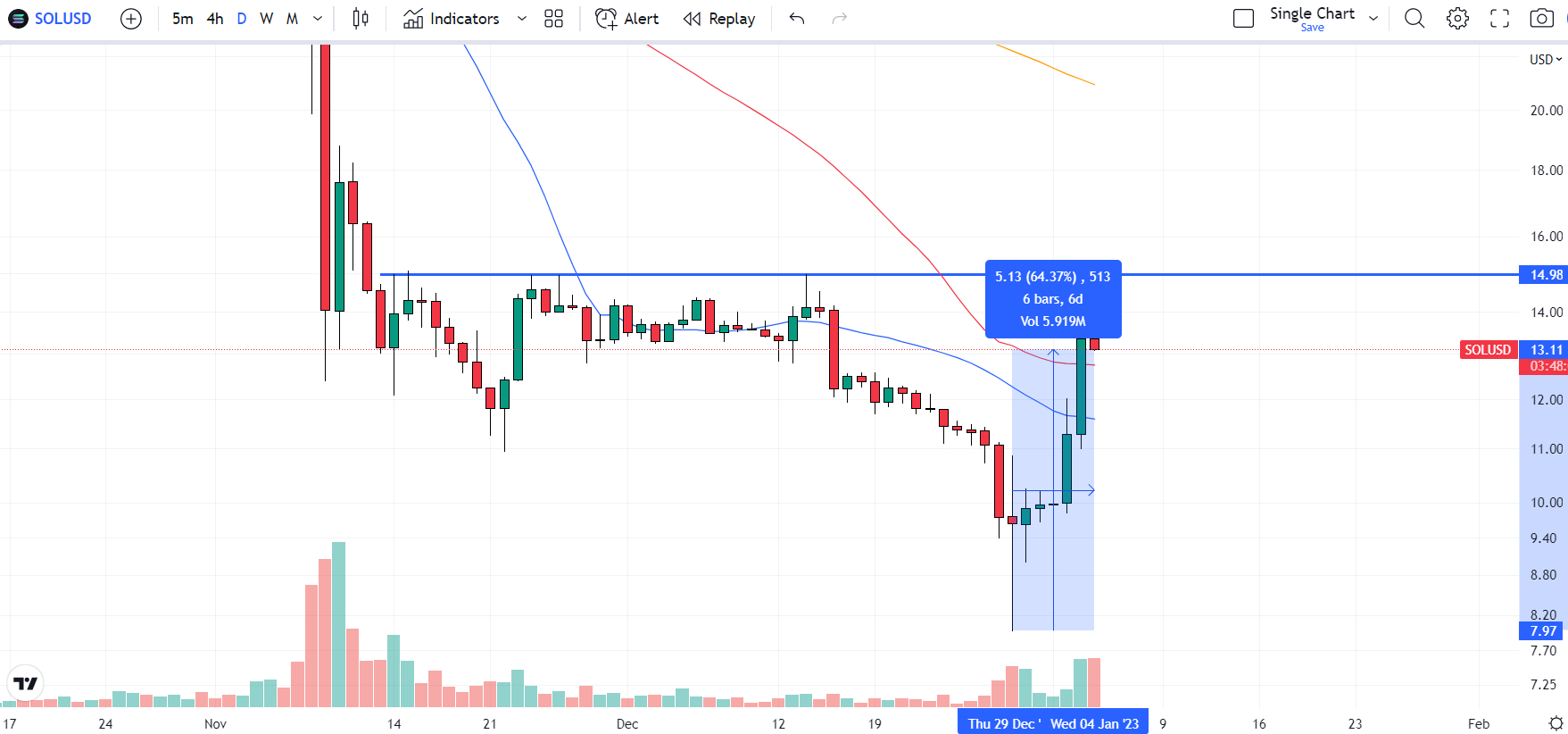 For what its worth, cryptocurrency analyst Marzell thinks the SOL pump is likely now to reverse, and is targeting a retest of the $12.20, where he is looking to take profits on a recently implemented short position.
In light of Solana's recent pump, which has a lot to do with the early success of a new Solana-based dog meme coin project called BONK, some investors might be asking whether its too late to buy Solana?
Did they miss the bottom? Have the easy gains all now been made? Is buying now a bad idea?
If Marzell is correct, then investors may get another opportunity to scoop up SOL tokens in the $12 area, suggesting it is not too late to buy SOL and it might be worth waiting a little.
But if the more bullish forecasts for the cryptocurrency are correct, then now might be the best time to get in, as waiting might see investors miss out on further potential gains.
One cryptocurrency community member predicted that Solana would hit $33 at best in the next six months, adding that "it's looking like sideways chop all year" and "nothing is likely to break out".
Another community member said that SOL would reach a $40-50 range.
A jump to $33, which is a significant area of supply, in six months would mark a 150% gain from current levels. Meanwhile, a jump to the $40-50 range would mark a 200-280% gain over the same time period.
From a technical perspective, if SOL is able to surpass near-term resistance in the $15 and $19 area, it could then find itself testing for a potential break into the June 2022 to October 2022 range in the $25-48 area.
Such a rally might seem far-fetched at the moment, in light of Solana's struggles in wake of the collapse of the FTX cryptocurrency exchange. FTX and its disgraced former CEO Sam Bankman-Fried were big backers of Solana and its ecosystem and, as a result of their abrupt implosion, Solana has seen nearly all of its funding pulled, as well as a flood of developers and projects jump ship.
This has battered its price. Even despite its recent recovery, SOL is still down about 66% versus its pre-FTX November highs near $40.
But crypto expert Col Jung takes a more optimistic outlook, bolstered by the success of BONK. "BONK emerged to galvanize Solana at a time many dismissed it as dead," he proclaimed, adding that he would be a HODLer at the end of a long thread detailing how BONK is uniting the Solana community during tough times.
With the broader cryptocurrency market still struggling in early 2023, traders/investors might be looking to diversify their holdings with assets that stand a better chance of posting short-term gains. Here is a list of some of Cryptonews.com's favorite presale tokens of highly promising crypto projects.
Fight Out, a brand-new move-to-earn (M2E) fitness application and gym chain that seeks to bring the fitness lifestyle into web3, has opened its pre-sale and investors think the project could transform the existing web3 M2E landscape. While existing M2E applications such as STEPN only track steps and require expensive non-fungible token (NFT) buy-ins to take part, Fight Out takes a more holistic approach to tracking and rewarding its users for their exercise and activity, and doesn't require any expensive buy-ins to take part.
Fight Out's FGHT tokens are currently selling for 60.06 per 1 USDT, and interested investors are encouraged to move fast to secure their tokens, with the pre-sale having already raised over $2.6 million in just a few weeks. FGHT is the token that will power the Fight Out crypto ecosystem.
Visit Fight Out Now
Those interested in investing in a promising crypto trading platform start-up should look no further than Dash 2 Trade. The up-and-coming analytics and social trading platform hopes to take the crypto trading space by storm with its host of unique features.
These include trading signals, social sentiment and on-chain indicators, a pre-sale token scoring system, a token listing alert system and a strategy back-testing tool. Dash 2 Trade's ecosystem will be powered by the D2T token, which users will need to buy and hold in order to access the platform's features. 
Dash 2 Trade are about to end a pre-sale that has offered tokens at a highly discounted rate. Sales recently surpassed $13.5 million. The pre-sale dashboard is going to be released soon, with the development team currently running ahead of schedule. Tokens are currently selling for $0.0533 each and will be listed on multiple centralized exchanges starting this month.
Visit Dash 2 Trade here
The carbon credit industry is projected to be worth $2.4 trillion by 2027. Democratizing access to accrue these benefits is going to massive business in the years ahead and this is something crypto start-up C+Charge hopes to achieve. C+Charge is currently building a blockchain-based Peer-to-Peer (P2P) payment system for EV charging stations that will allow the drivers of electric vehicles (EVs) to earn carbon credits.
C+Charge aims to boost the role of carbon credits as a key incentive for the adoption of EVs. At present, large manufacturers of EVs like Tesla earn millions from selling carbon credits to polluters. C+Charge wants to democratize the carbon credit market by allowing more of these rewards to find themselves in the hands of the EV owners, rather than just the big businesses.
C+Charge has just started its pre-sale of the CCHG token that its platform will use to pay at EV charging stations. Tokens are currently selling for $0.013 each, though by the end of the presale this will have risen by 80%. The project has already raised close to $75,000 in just a few weeks. Thus, investors interested in getting in early on a promising environmentally friendly cryptocurrency project should move fast.
Visit C+Charge here
A quick 3min read about today's crypto news!
A quick 3min read about today's crypto news!