The crypto market has dipped further into bearish territory. As of the time of this report, it is a long way from the reports of our last post. It is continuously at the mercy of external forces that keep investors aloof. The poor economic readings flowing out of China are also not helping matters. Asian stocks have been down for most of 2 weeks as they first awaited stimulus packages. Next, the market had to deal with the result of low export.
There was a high trading volume in the crypto market for over a week. Even though there was no new inflow, the existing funds kept changing hands at a good rate. But things have changed in the last 48 hours. Both market capitalization and trading volume are firmly in the red. This situation indicates that traders have now lost their appetite for crypto assets.
What the crypto market will become when the financial situation is stabilized is uncertain. What is sure is that investors need to see a clear of where policymakers are turning.
1. BT2021 (BT2021)
BT2021 is a decentralized finance (DeFi) payment platform that recreates the traditional finance payment system on the blockchain with the necessary technology. The system uses a basket of stablecoins pegged to fiat currencies and algorithmically stabilized by its reserve currency BT2021 to facilitate programmable payments. It also helps to open financial infrastructure development. As of December 2020, the network has transacted an estimated $299 billion for over 2 million users.
The main essence of the cryptosystem is to decentralize payment systems so that individuals can have more autonomy and privacy. Networks that emphasize this in their operation will undisputedly attract more users and grow their platforms faster. 
BT2021's user base has exceeded its 2 million figure since 2020. Although this token has scanty information, it may have a promising future. Its trend on DEXTools is an indication that it is receiving increased attention and activities.
2. Espresso (ESPR)
Espresso has been trending constantly on DEXTools for over a week. The Telegram bot was built to help users create ERC-20 tokens of their own. The created tokens will be compatible with any Ethereum infrastructure. The major crypto exchanges that trade this asset now are Bitget and Uniswap V2, while it has active trading pairs with Wrapped Ethereum (WETH) and USDT.
According to CoinMarketCap, the ESPR token has had a trading volume of over $701,000 in the last 24 hours. It is also shown to have a fully diluted valuation of more than $5.45 million.
Up by a fair percentage in the last 24 hours, ESPR currently sells at $0.003854. There is also a total supply of 1 million ESPR tokens.
3. BarbieCrashBandicootRFK888Inu (SOLANA)
SOLANA has become a great game-changer in the crypto industry because of its focus on memes. It is also dedicated to the principles of viral brilliance. Making it clear that they don't settle for less, the SOLANA team declares that they have embedded themselves into achieving absolute awesomeness.
As a result, the SOLANA community is full of meme lovers and creators. They continue to create and release memes that go viral and make their audience experience fun.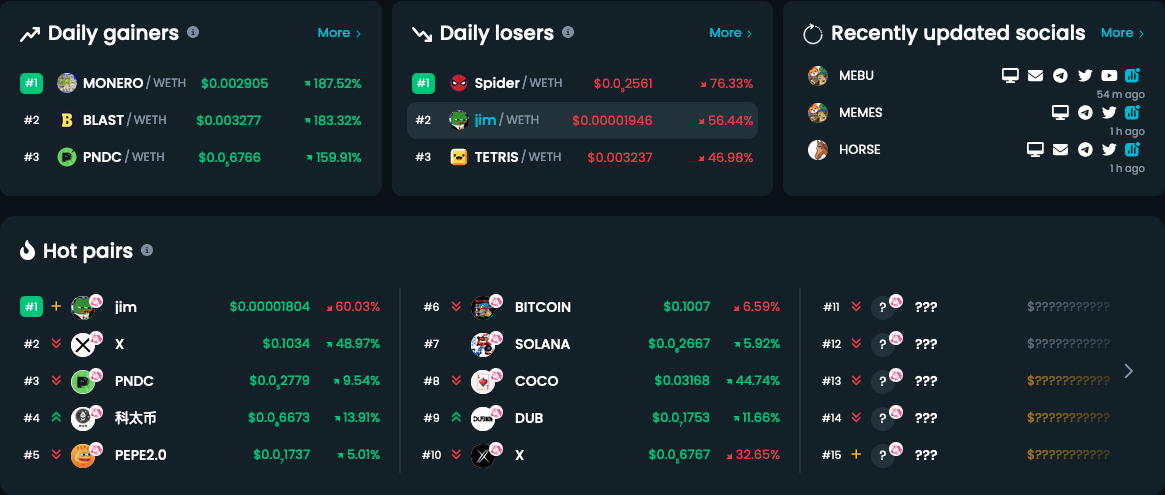 Hot Pairs on DEXTools
Separating the project from unserious crypto projects that seek to waste the community's time, the team made it clear that it is here for real business. Importantly, they have come to dominate the memecoin space. 
SOLANA is, therefore, about pushing the barriers of meme culture while competitors try to catch up. The platform has a great passion for fun and humor and aims to show the internet the power of its memes.
It has been able to create a community that is seen as a brotherhood. It's a place where all members find all the support they need to create meaningful and exciting memes. The developers say being part of SOLANA means that an individual has become part of a family built by the power of the meme revolution.
Anyone willing and ready to be part of the community should simply brace up. Everyone is asked to watch out for meme history as it unfolds.
4. Floki (FLOKI)
Floki has an ecosystem that empowers individuals to take charge of their finances by providing them with four essential utility offerings. Valhalla, the NFT Metaverse game developed by FLOKI, empowers its gameplay with the FLOKI token. It incorporates cutting-edge game mechanics on the blockchain, offering immersive on-chain gaming interactions and upgradeable NFTs.
Players engage in a captivating gardening system within Valhalla, nurturing and tending to their virtual plants for rewards.
Valhalla boasts a robust battle system, offering exhilarating encounters with challenging adversaries and thrilling opportunities for victorious triumphs. Furthermore, the game features a comprehensive item system. It allows players to acquire and utilize various equipment, artifacts, and consumables to enhance their gameplay experience.
By incorporating these groundbreaking PlayToEarn mechanics, Valhalla offers players the opportunity to earn and collect FLOKI tokens while immersing themselves in the game. This innovative approach ensures that Valhalla becomes a viable income-generating platform for millions of individuals.
A suite of decentralized finance products, set to launch under the Floki brand, will be introduced as FlokiFi. FlokiFi, an abbreviation for "Floki Finance," aptly describes a collection of utility products that will be launched. This trait transforms it into a self-contained ecosystem within the broader Floki Ecosystem. The initial utility product, the FlokiFi Locker protocol, will soon be released under the FlokiFi umbrella.
Floki attempts to bridge the crypto education gap for the subsequent billion users while raising awareness for the FLOKI token. These efforts materialize in the form of the University of Floki. 
The FLOKI token receives a dual benefit from the establishment of Floki University. By positioning itself as the foremost platform for crypto education, Floki University strategically introduces the Floki Ecosystem to billions of new crypto users who are acquiring knowledge on its platform. Serving as the primary utility token of Floki University, the FLOKI token plays an essential role in specific functionalities. It ensures that most of the content remains freely accessible in alignment with FLOKI's objective of expediting mainstream crypto education.
FLOKI's initiative, FlokiPlaces, seeks to revolutionize crypto commerce by establishing an ecosystem where individuals can trade NFTs and merchandise.
What Might Be The Next Top Trending Crypto?
Launchpad XYZ has raised more than $1.2 million in its ongoing presale. Since the project's presale launch, it has been able to set new milestones. It is still focused on getting more AI-backed solutions to the trading community.
🎉 HUGE NEWS! We've just crossed the $1.2 million mark in our #Presale!

A heartfelt thank you to our incredible community. The journey has only begun 🚀

Join the $LPX presale today! ⤵️https://t.co/6qHqqRBG7F#LaunchpadXYZ #Crypto #Web3 #Trade #Alts pic.twitter.com/fZpXciMLVp

— Launchpad.xyz (@launchpadlpx) August 8, 2023
Not only that, but it is also working hard at helping the world transition from Web 2.0 to Web 3.0. According to its plan, it works on platforms that would help regular businesses seamlessly integrate their existing Web2 into Web3.
In the meantime, early-stage crypto investors could take advantage of its presale offer and be the first to benefit from it. Furthermore, getting on board early makes it easy for investors to gain an advantage over other investors when it comes to spotting crypto opportunities. 
Launchpad XYZ also provides highlights on crypto assets that are positioned for massive gains in the market. The LPX token currently sells for $0.0445. However, that price will not last for too long as it will increase to $0.046 as soon as the presale funds reach $1,550,000.
Read More
. 
Wall Street Memes – Next Big Crypto
Early Access Presale Live Now
Established Community of Stocks & Crypto Traders
Featured on BeInCrypto, Bitcoinist, Yahoo Finance
Rated Best Crypto to Buy Now In Meme Coin Sector
Team Behind OpenSea NFT Collection – Wall St Bulls
Tweets Replied to by Elon Musk