Scalable DeFi and NFT projects can benefit from the impressive Solana blockchain. The platform, which has a successful native token called SOL, is among the top Layer 1 blockchains. If HODLERs know how to use the SOL token, it can be quite profitable.
Not the best of ideas to leave your token idle. Top crypto traders have therefore mastered the art of staking their tokens to generate passive income. In this article, we'll discuss how to stake solana to make some extra money. Let's first define what staking is, though.
Staking: What Is It?
A Proof-of-Stake blockchain, like Ethereum and Solana, uses staking to validate transactions and protect its network. Users must lock up their money in the Proof of Stake consensus method in order to have the privilege of validating the subsequent block.
These users typically receive a compensation for validating that is based on the transaction fees taken from that block. Therefore, locking more coins increases a user's chances of validating a block and receiving more rewards.
We have compiled here the ideal locations to stake Solana SOL coins in 2022. Staking Solana SOL coins is a fantastic way to generate passive income, but SOL, like all crypto assets, may be quite volatile.
Please conduct your own research before deciding how to stake your SOL tokens and making any investments. Staking cryptocurrency carries some risk.
The following are some of the best places to stake Solana currently:
Coinbase
Binance Exchange
Kraken
Huobi Exchange
Exodus Wallet
Phantom Wallet and Nano Ledger
Coinbase
One of the most well-known cryptocurrency platforms in the world, Coinbase, launched Solana staking in June 2022. For novices, staking SOL on Coinbase is an excellent alternative because you don't have to bother about setting up validators and you can start with just $1.
When you stake Solana on Coinbase, incentives will begin to accrue automatically every three to four days. SOL's APY on Coinbase is currently about 4% APY, although this rate is subject to change. For beginners, Coinbase makes it relatively simple to get started with cryptocurrency, but there is a cost. A 25% staking charge is required when staking Solana on Coinbase.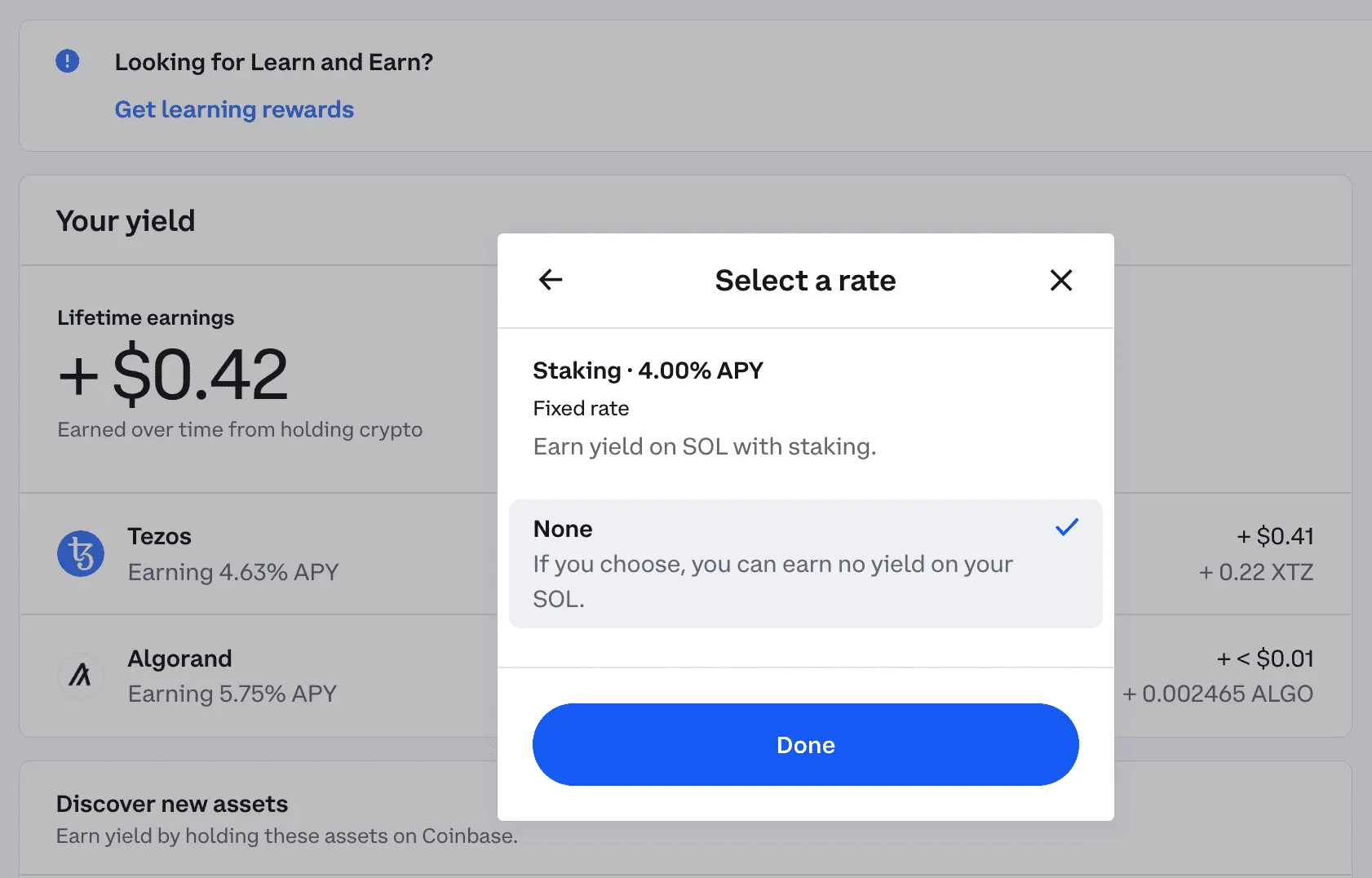 4% APY Coinbase Solana Staking Rate
Conclusion: Coinbase makes it incredibly simple to stake Solana, but you'll get a lower rate than its rivals. If you already have an account and don't mind not getting the best interest rate, Coinbase might be worth your consideration.
Binance
The biggest cryptocurrency exchange in the world, Binance, provides traders with a wide range of trading choices, strong liquidity, and some of the lowest costs in the market. The cryptocurrency exchange, which Changpeng Zhao founded in China in 2017, moved to the Cayman Islands. The American version of Binance.com, Binance.US, provides users with fewer trading options and features for cryptocurrency.
When it comes to staking SOL, there are several alternatives available on Binance.com. Unfortunately. Users of Binance.US are unable to stake Solana and must go for one of the alternative options listed in this tutorial.
Some of the finest Solana staking rates are provided by Binance to its users. These promotions, however, are only available for a limited period. Ideally, you should lock up your SOL tokens for 30, 60, or 90 days in order to stake Solana on Binance Earn. Generally speaking, you will earn more interest on your tokens the longer you keep them locked up. Just be mindful that the interest rates do change and that these subscriptions do expire.
The following are the staking rates for the Binance Solana SOL token:
30 Days Locked Staking  5.86%
60 Days Locked Staking – 7.50%
90 Days Locked Staking – 14.79%
120 Days Locked Staking – 19.47%
15-Day Fixed Savings: 35%
1.50% for Flexible Savings
Although Binance calculates its staking interest every day, you will forfeit any collected interest if you end the lock-up period before it has finished.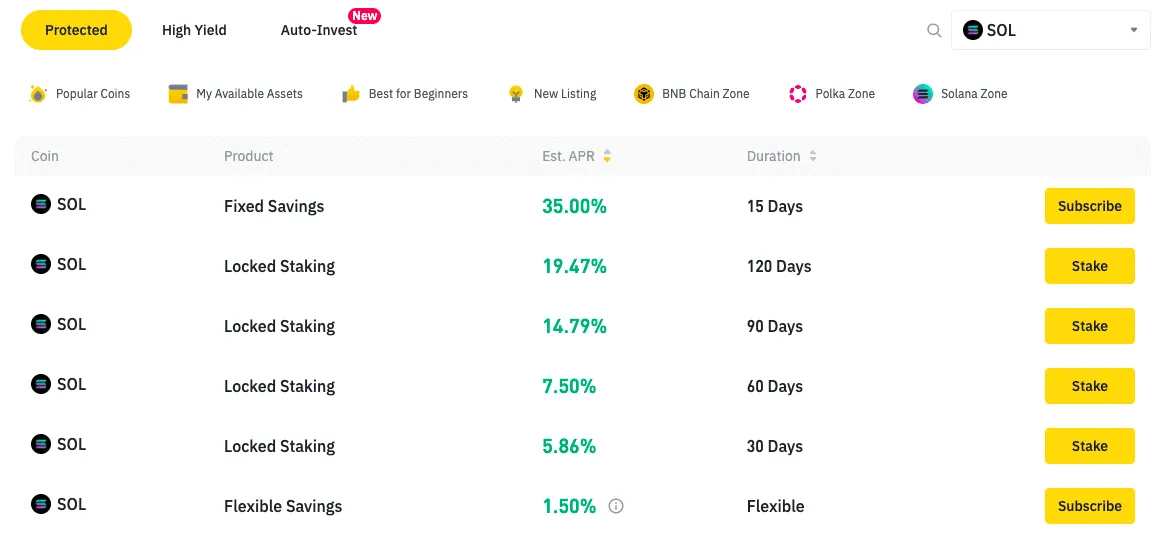 Up to 35% APY at Binance Solana Staking Rate
Conclusion: Staking entails a variety of hazards, such as cutting, malicious attacks, etc. Staking on Binance provides security as well as a respectable APY. In actuality, no cryptocurrency platform is completely absolutely safe. However, Binance is the industry leader as a safe exchange and one of the top places to stake SOL.
Huobi Global
A crypto-to-crypto exchange called Huobi Global was established in China in 2013 and has now moved to the Seychelles. Huobi is accessible in the majority of nations around the world, but not in the United States.
In comparison to Binance, Huobi Global Solana staking offers lesser interest rates. On their Huobi Earn feature, they provide a few staking alternatives, including Fixed, Flexible, and First Timer investing possibilities.
It used to be possible to make about 5.35% APY by staking SOL on Huobi, which is significantly less than some of its rivals. Huobi does run special sales and has provided SOL at rates as high as 50% APY for a short period of time.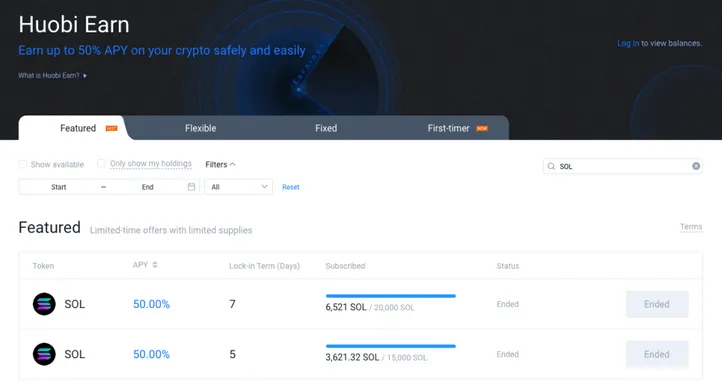 Huobi Global Solana Staking Rate: 4.60% APY
Conclusion: We believe you can get better rates elsewhere if you want to stake Solana on an exchange.
Kraken
Kraken is a well-liked option for cryptocurrency investors because of its high level of security and reasonable trading fees. Despite having a U.S. base, Kraken may have various limitations depending on where you are.
One of the 14 tokens that investors can stake is Solana; the others include ETH, DOT, and ADA. You may exchange for these on Kraken for currencies like USD, EUR, GBP, and BTC if you don't have SOL. After receiving your SOL tokens, you can begin to stake them to begin earning 6-8% APY. You must deposit at least 0.2 SOL in order to stake Solana on Kraken. There are no lockup periods to stake SOL, in contrast to other options on this list, and you can withdraw your tokens whenever you choose.
Despite our distaste for the Kraken exchange's user interface and overall user experience, they do make staking cryptocurrency relatively simple. Although we believe Kraken to be one of the safest exchanges, we do not stake Solana on Kraken.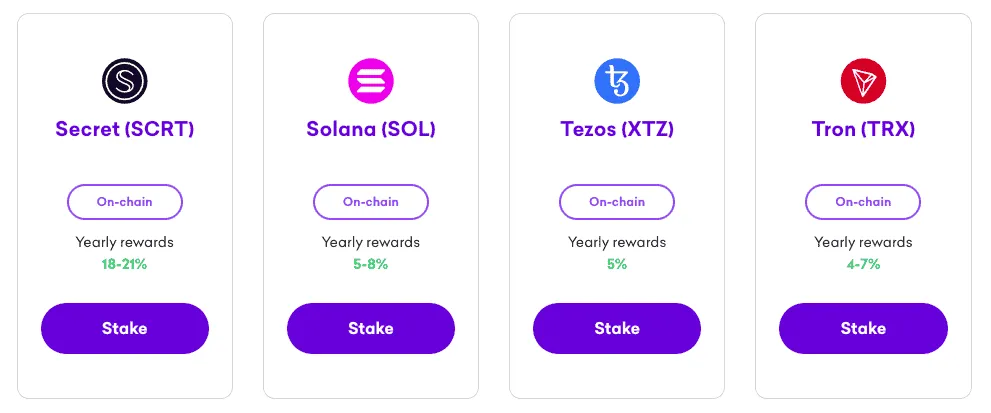 5-8% APY Kraken Solana Staking Rate
Conclusion: If you already have a Kraken exchange, you should think about staking SOL tokens there.
Exodus Wallet
You can also store and stake your SOL tokens in Exodus, a free desktop and mobile wallet. You can stake a number of tokens under the Rewards page, including Solana, which has an anticipated staking duration of 4 days and an APY of 5.23%.
You can exchange for SOL within the Exodus wallet if you don't have any to stake. Just be aware that because of the big spreads, this won't be the cheapest way to trade your tokens. It does, however, imply that you are free from the need to send and trade your tokens from one platform to another.
With Exodus, you will be using the Everstake API provider to stake SOL.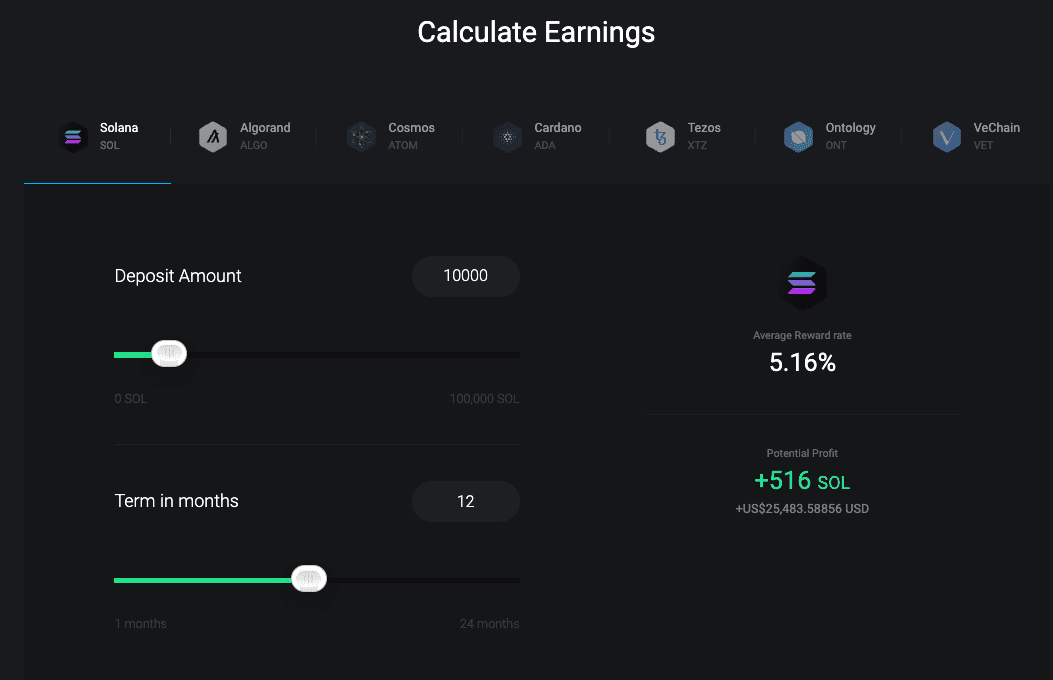 Solana Staking Rate in Exodus Wallet: up to 5.23% APY
Conclusion: Exodus is a very good wallet, and even though its Solana staking rates are on the low side, it is still preferable to stake Solana there rather than on a cryptocurrency exchange.
Phantom Wallet & Nano Ledger
The Phantom Wallet, which is comparable to Metamask in style, is Solana's non-custodial wallet. With access to their private keys, users can securely store and stake SOL tokens using Phantom Wallet. Additionally, Phantom can be connected to a Ledger hardware wallet for added protection.
You must pick a validator from a list that is shown to you when you stake your SOL in the Phantom Wallet. Researching these Validators is crucial because you will be depending on them to capture your interest. All the details, such as the validator's commission rate and the number of active delegators, will be broken down before you stake with your validator.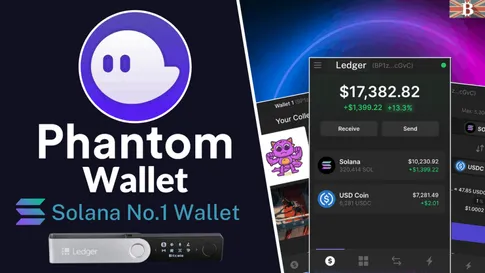 Solana Staking Rate for Phantom Wallet: 6-8% APY
Conclusion: Many individuals combine the Ledger Nano hardware wallet with the Phantom wallet to stake Solana. You can pick your own validators, and this is likely the safest approach to stake SOL. Although it won't be the simplest way to stake Solana, it's worth looking into if you have the time.
Is SOL Staking Safe?
On several Proof-of-Stake networks, there is a mechanism known as "slashing." Any procedure known as "slashing" involves the destruction of a portion of the stake assigned to a validator due to the validator's bad behavior.
As a result, validators are encouraged to refrain from taking such acts because they will earn less money as a result of having less stake assigned to them. Being cut can also be viewed as a reputational risk for losing out on present or prospective investors.
Slashing also puts token holders at risk since they can lose some of the tokens they have delegated to a slashed validator. Slashing could encourage token owners to only delegate their tokens to validators they consider to be trustworthy rather than to delegate all of their tokens to one or a small group of validators.
Slashing is not a default action on Solana. If an attacker stops the network, they might be sliced when it starts up again.
The Best Way to Pick a Solana Validator
There are a few things to think about while selecting a Solana validator, such;
Commission Rate: Choosing a lesser commission rate is advised because it will affect your benefits.
Uptime: It's critical to choose a validator whose uptime for their services is near to 100%.
Size: Some users want to delegate to smaller validators to help the network become more decentralized and to increase the long-term worth of your SOL investment. While some prefer the bigger validators because they believe in the power of numbers.
Values: Take into account validators who are dedicated to enhancing Solana by assisting with the platform's app development, tools, or training resources.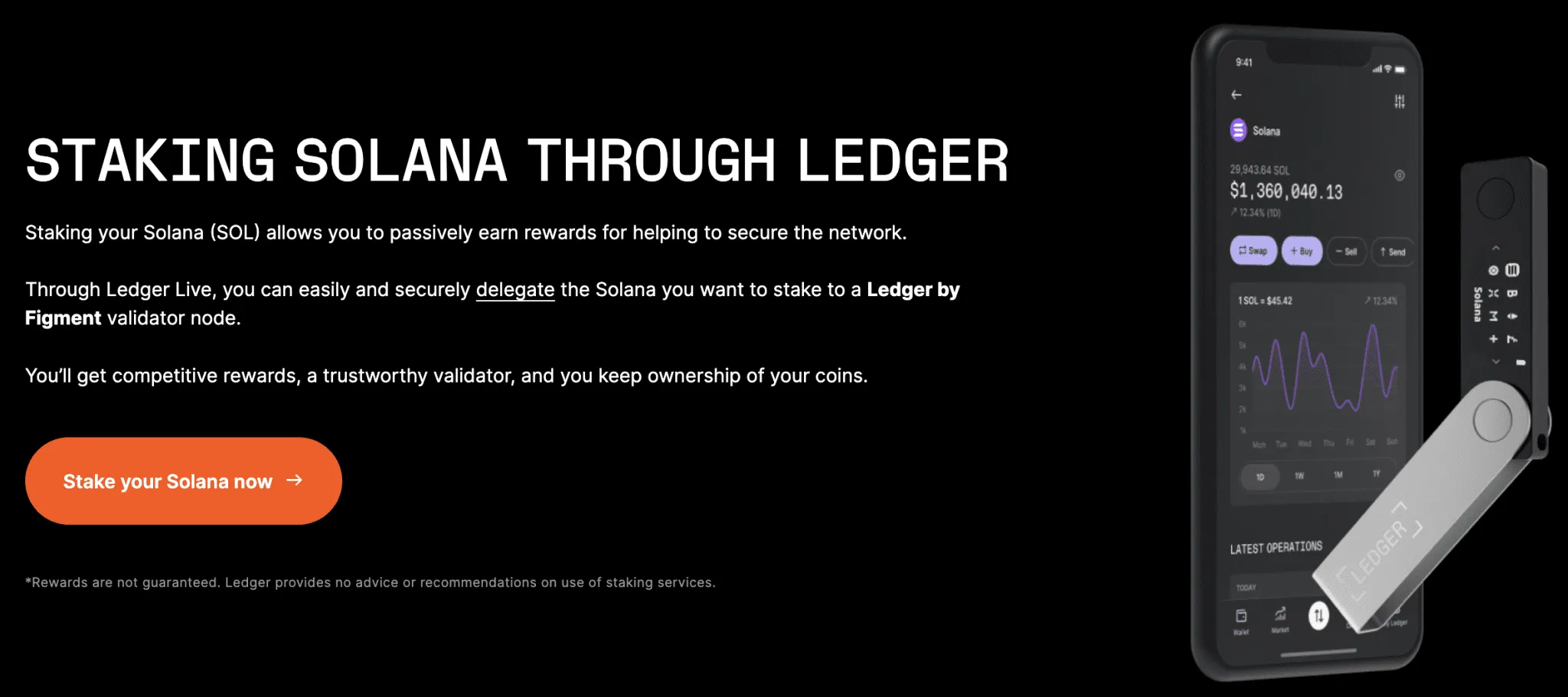 Related
Dash 2 Trade – High Potential Presale
Active Presale Live Now – dash2trade.com
Native Token of Crypto Signals Ecosystem
KYC Verified & Audited