Solana (SOL), one of the most popular and traded cryptocurrencies, has dropped out of the list of top 10 cryptocurrencies by market capitalization and replaced by Polygon (MATIC) as the 10th largest crypto coin.
As of 8:50 pm ET Monday, the price of the SOL token was $29.12, with an 11.04% price crash in the last 24 hours. The market cap of the token stood at $10.6 billion and the market dominance dropped to 1.03%. The trading volume of the coin jumped 51.36% in the same duration.
The SOL token reached a two-month high when Google Cloud, the cloud computing division of the search engine giant Google, announced that it was running a validator on the Solana blockchain.
However, the momentum gained was not enough to turn the short-term price surge into a full-blown bullish rally. As a result, SOL dropped out of the top 10 ranking and is currently ahead by $2 billion in market cap from the 12th largest crypto coin, Polkadot (DOT).
Following the announcement from Google Cloud last week, the SOL token rose from $30.86 Friday to a two-month high of $38.79 Saturday. However, the daily candle for Saturday was closed at a price of $36.90, as per CoinMarketCap.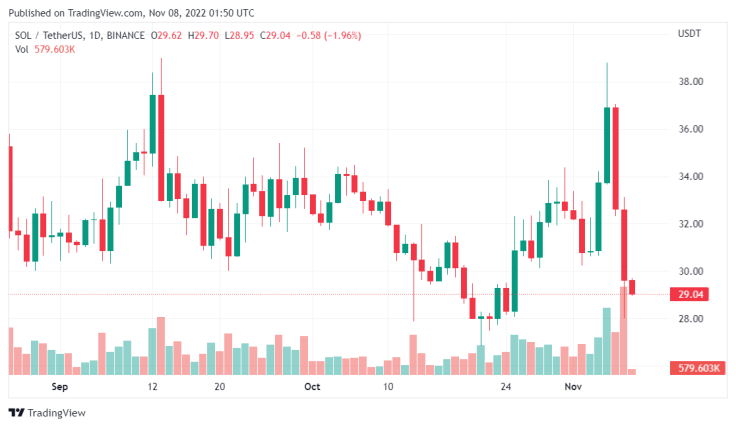 Over the weekend, investors took advantage of the increase in the price of the SOL coin and cashed in their profit. As a result, SOL dropped 11.60% and 9.20% Sunday and Monday, respectively.
At the Solana Breakpoint, a four-day conference held from Nov. 4 to Nov. 7, Solana Spaces' founder and CEO Vibhu Norby unveiled the Solana Store in Miami while also asking attendees to scan QR codes to participate in a giveaway, CoinTelegraph reported.
However, the event and its bullish announcements had no impact on the price action of the SOL token.