After a brief period of plunge, Bitcoin and other crypto-assets are showing a visible increase yet again. There is also growing talk about crypto's growing interconnection with financial markets, leading them to become an integral part of the "digital asset revolution".
The concept of removing all the problems of traditional banking – manual errors and corruption, hacking, the opacity of operations – has appealed to the world far and wide.
Many analysts predict that the upcoming favorable legislations and crypto adoption by global giants like Chipotle are other reasons for the improved performance.
The time is right for investing in the crypto market, but only after closely watching the best-performing assets, their use cases, and future potential.
To help you with this, we have drawn up a list of the 8 biggest crypto gainers today.
8 Top Crypto Gainers in the Last 24 Hours
1. Ethereum Name Service (ENS)
The Ethereum Name Service (ENS) describes itself as a "distributed, open, and extensible naming system based on the Ethereum blockchain". ENS translates human-readable Ethereum addresses like john.eth into machine-readable alphanumeric codes that wallets like Metamask are familiar with.
The platform is also feasible for converting metadata and machine-readable addresses back to human-readable Ethereum addresses.
In this way, ENS helps make the Ethereum-based web more accessible and understandable for humans, exactly how the Domain Name Service (DNS) makes the internet more accessible.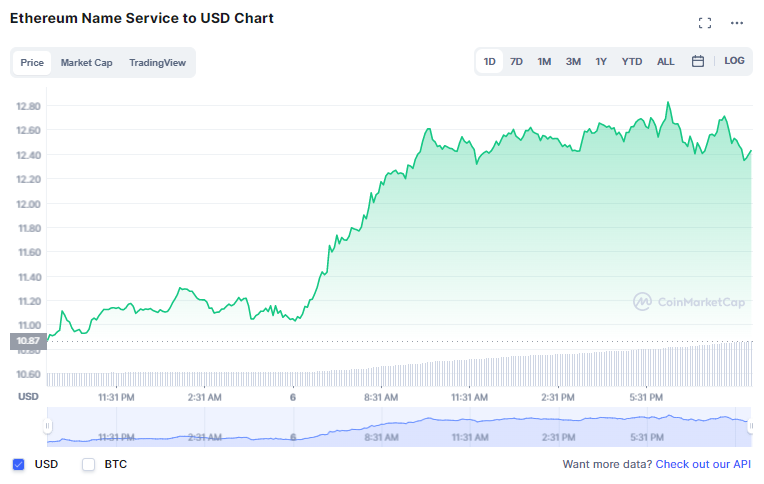 There is a similar system of domains consisting of dot-separated hierarchical names. Domain owners have complete authority over their subdomains.
ENS was launched back in November 2021 with what can be called a highly successful airdrop. Users who had registered their addresses before the token launch were specially rewarded.
The current price of ENS is $12.41 with a 24-hour trading volume of $111 million. The token value is up by 14.38% in the last 24 hours, according to CoinMarketCap. The live market capitalization is at $251 million. With its maximum supply capped at 100 million ENS coins, the current circulating supply of the token is at 20 million.
Your capital is at risk.
2. Neo (NEO)
Neo describes itself as a "rapidly growing and dynamic" ecosystem that aims to lay the groundwork for the next generation of the internet. According to Neo, the future belongs to a new economy based on digitized payments, identities, and assets.
When it first launched in February 2014 under the name Antshares, it was viewed as China's first-ever public blockchain. Three years later, the open-source platform was relaunched as Neo.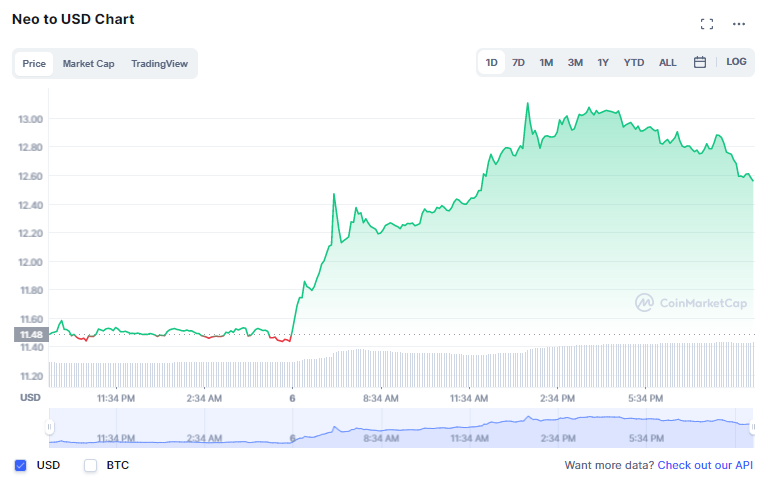 The team behind this project encourages the community to build decentralized apps and smart contracts on its blockchain, besides bringing together global developers to create a new and welcoming infrastructure.
It has often been compared to the Chinese version of the Ethereum network.
The current Neo price is $12.60, with a trading volume of $208 million in the last 24 hours. Neo has gained 9.65% in the previous 24 hours. The current market capitalization stands at $888 million. There are 70 million NEO coins in circulation, with a total supply of 100 million.
Your capital is at risk.
3. Loopring (LRC)
Loopring is an open protocol that deals with the creation of decentralized cryptocurrency exchanges. Its Ethereum-based cryptocurrency token is called LRC.
Loopring's stated purpose is to create a hybrid platform that combines centralized order matching with decentralized on-blockchain order settlement. In this manner, it plans to combine the best features that centralized and decentralized exchanges have to offer.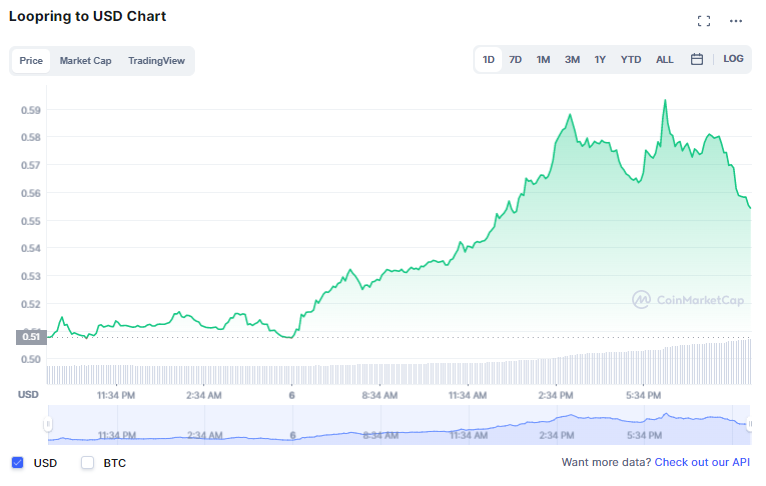 During an initial coin offering (ICO) in August 2017, LRC tokens were made available to the general public. In December of this year, the Loopring protocol was launched on the Ethereum mainnet for the first time.
The current Loopring price is $0.555865, with a trading volume of $175,882,351 in the last 24 hours. Loopring has increased by 9.70 per cent in this period. The current market capitalization is $739 million. There are 1.33 billion LRC coins in circulation, with a maximum supply of 1.37 billion.
Your capital is at risk.
4. Cardano (ADA)
Cardano is a proof-of-stake blockchain platform that aims, according to its website, to empower "changemakers, innovators, and dreamers" to result in good global change.
The open-source project also aspires to "redistribute power from unaccountable systems to the fringes to individuals," contributing to more secure, transparent, and equitable society.
The ADA token is meant to allow owners to participate in the network's operation. As a result, holders of the cryptocurrency have the ability to vote on any proposed software updates.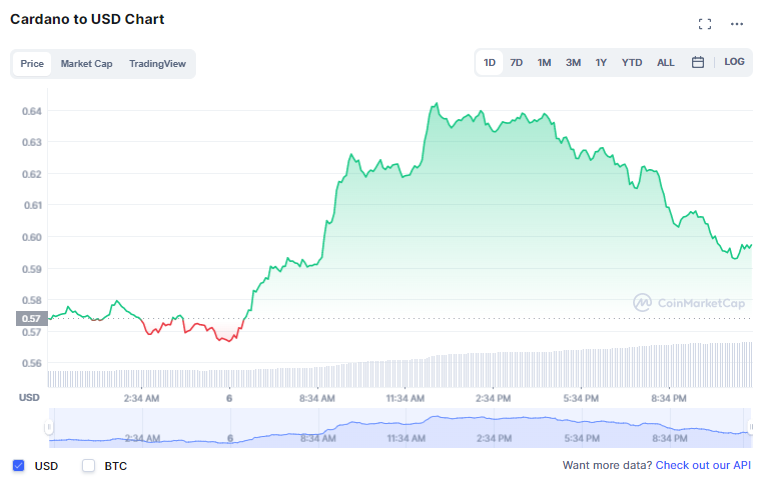 The layered blockchain Cardano has a wide variety of use cases, according to its team, allowing decentralized apps and smart contracts to be developed as modules for wide-ranging applications.
For instance, agricultural firms are using Cardano to track fresh fruit from farm to fork, educational institutions are using it to store tamper-proof educational credentials, and retailers are using it to combat counterfeit items with traceable inventory management.
Cardano now has a price of $0.602844 and a 24-hour trading volume of $1.25 billion. With a live market cap of $20.45 billion, there are 34 billion ADA coins in circulation and a maximum supply of 45 billion.
Your capital is at risk.

5. Theta Network (THETA)
Theta (THETA) is a blockchain-based network that was created specifically for video streaming. Theta mainnet, which went live in March 2019, is a decentralized network where users exchange bandwidth and processing resources on a peer-to-peer (P2P) basis.
Steve Chen, co-founder of YouTube, and Justin Kan, co-founder of Twitch, have been key advisors behind the initiative.
Theta has its own native cryptocurrency token, THETA, which is used to execute various governance duties within the network.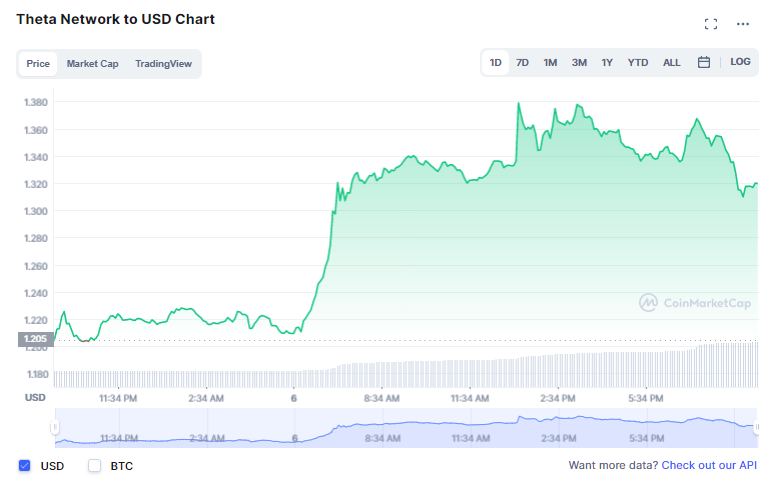 According to the project's creators, the project intends to shake up the video streaming market in its current state, where centralization, bad infrastructure, and high expenses result in a terrible user experience.
Due to the hurdles between content creators and end-users, content creators also make less money.
Theta Network is currently trading at $1.32, with a 24-hour trading volume of $135 million. In the previous 24 hours, Theta Network has increased by 9.40 per cent. The current market capitalization is $1.3 billion.
Your capital is at risk.
6. Solana (SOL)
Solana is an open-source project that uses the permissionless aspect of blockchain technology to create decentralized financial (DeFi) solutions.
While the concept and first work on the project began in 2017, the Solana Foundation, based in Geneva, Switzerland, formally launched the project in March 2020.
The Solana protocol is intended to make the construction of decentralized apps (DApps) easier. It intends to increase scalability by combining a proof-of-history (PoH) consensus with the blockchain's underlying proof-of-stake (PoS) consensus.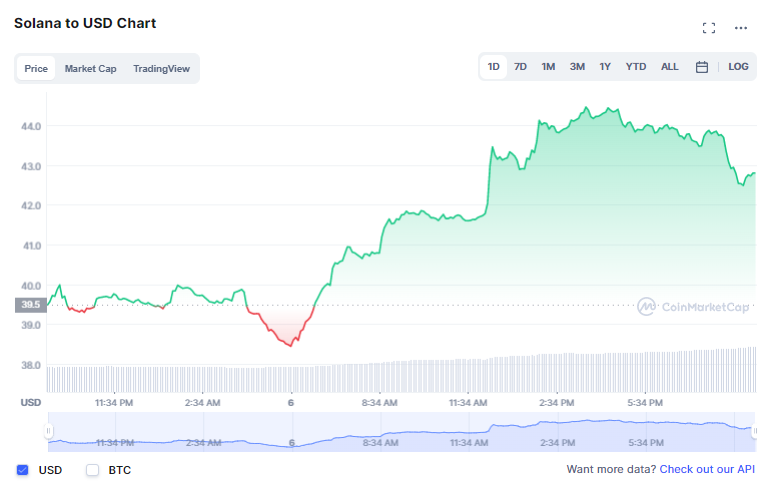 Small-time traders and institutional traders alike are interested in Solana because of its revolutionary hybrid consensus mechanism.
Solana is currently trading at $42.79, with a 24-hour trading volume of $1.8 billion. The current market capitalization is $14.55 billion dollars. There are 339 billion SOL coins in circulation, and the maximum supply is unknown.
The internet was recently rife with a Twitter battle between Solana and Cardano teams, both questioning the other's purpose and performance. Interestingly, both have pumped considerably in the last few days, crossing the 7% mark.
Part of the reason behind Solana's improved performance is that it is incorporating Chainlink, which is also doing popularity rounds these days.
Your capital is at risk.
7. Avalanche (AVAX)
Avalanche is one of the fastest smart contract platforms in the blockchain market if we talk about time-to-finality. The platform is lightning quick, inexpensive, and environmentally friendly, making it a highly competitive platform for any smart contract-enabled application to deploy.
On September 21, 2020, Avalanche went live on the mainnet. Since then, the platform has secured over 450+ individual projects, $118 million in AVAX burned (lowering supply), 1,350+ individual block-producing validators, and over 1.5 million community members worldwide.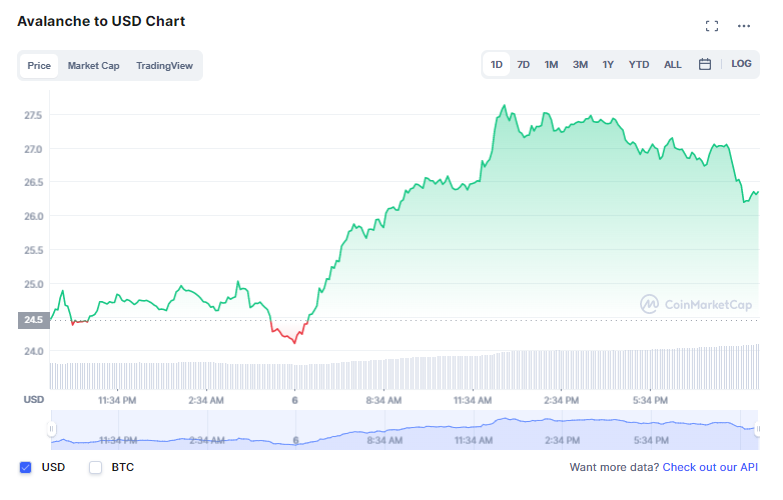 AVAX is Avalanche's native token. It's a hard-capped, rare asset that is used to pay fees, secure the platform through staking, and serve as a fundamental unit of account between Avalanche's several subnets.
The current Avalanche price is $26.32, with $743 million in 24-hour trading volume. The current market capitalization is $7.4 billion. AVAX coins have a circulating supply of 280 million and a maximum supply of 720 million.
Your capital is at risk.
8. Curve DAO (CRV)
Curve is a decentralized exchange liquidity pool based on Ethereum that attempts to make stablecoin trading as efficient as possible.
Curve is an Ethereum-based exchange liquidity pool that was launched in January 2020. Low-slippage stablecoin trading, lower risks, a low-fee algorithm created exclusively for stablecoins, and supplemental fee income are among its most notable features.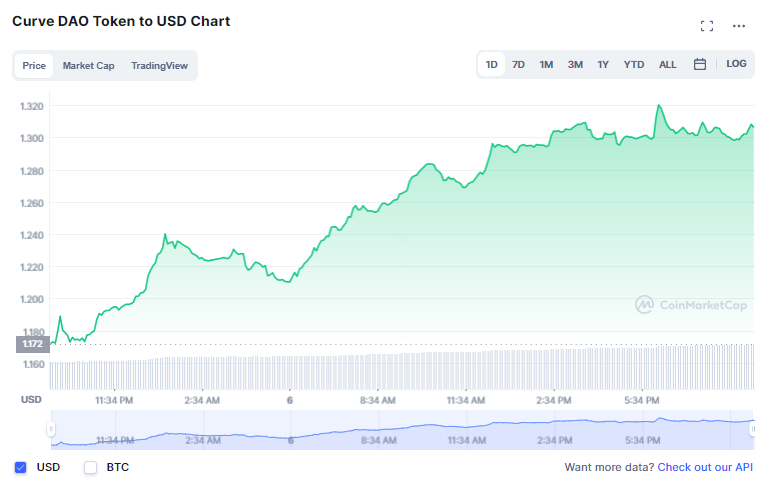 Compound, PAX, Y, BUSD, sUSD, ren, and sBTC are among the stablecoins and assets now supported by seven Curve pools.
Curve DAO Token is currently trading at $1.30, with a 24-hour trading volume of $104 million. The token now has a market capitalization of $651 million. A total of 500 million CRV coins are in circulation, with a maximum supply of 3.3 billion.
Your capital is at risk.
What is the Best Place to Buy Cryptocurrencies?
eToro is the best place to go if you want to buy crypto assets with a good return on investment. The popular crypto platform is well-regulated and safe, with a reasonable and fair fee structure. All you need is a $10 deposit to start your trading career on the world's leading crypto platform.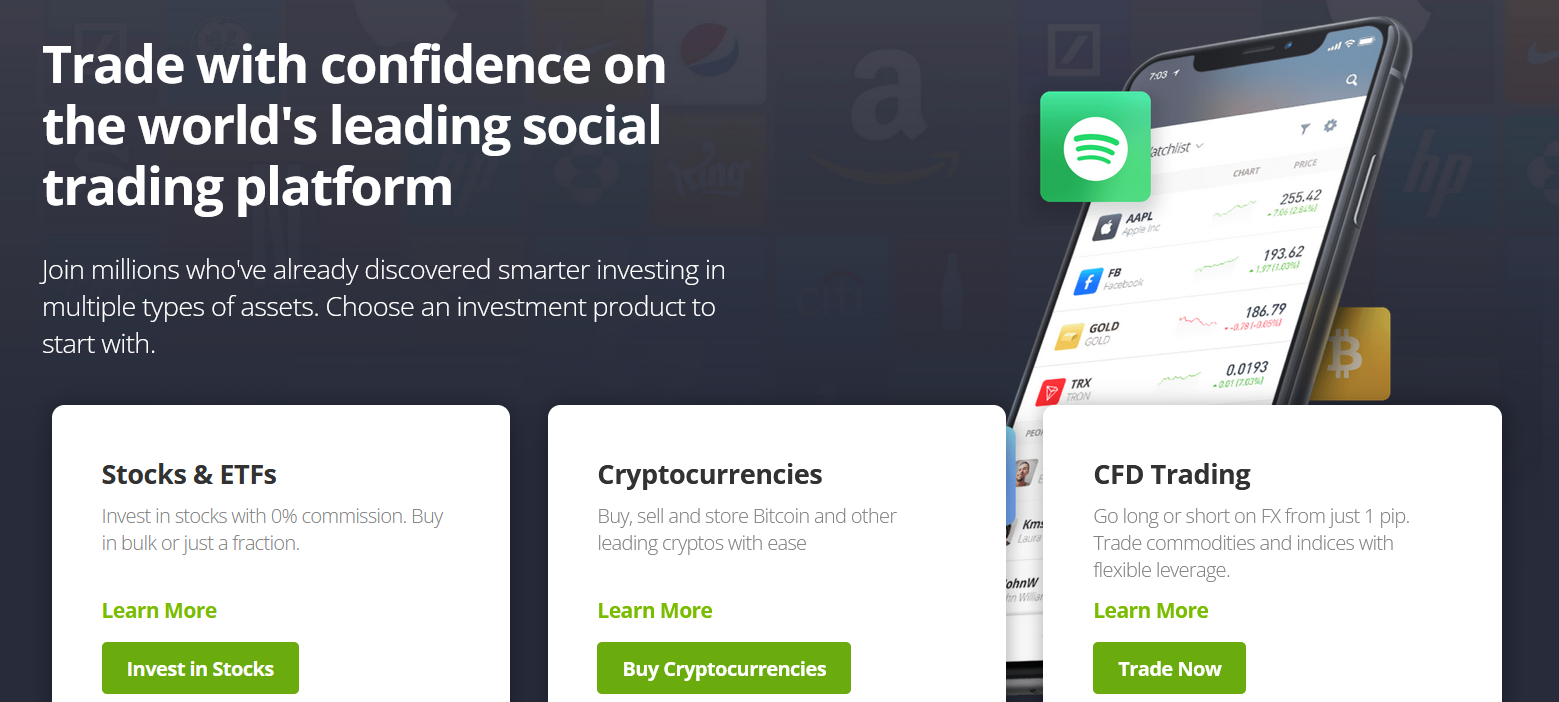 Besides, the copy portfolio function on eToro allows traders to imitate the moves of the platform's most successful investors and earn similar profits as them.
Your capital is at risk.
Read more:
Lucky Block – Our Recommended Crypto of 2022
New Crypto Games Platform
Featured in Forbes, Nasdaq.com, Yahoo Finance
LBLOCK Token Up 1000%+ From Presale
Listed on Pancakeswap, LBank
Free Tickets to Jackpot Prize Draws for Holders
Passive Income Rewards – Play to Earn Utility
10,000 NFTs Minted in 2022 – Now on NFTLaunchpad.com
$1 Million NFT Jackpot in May 2022
Worldwide Decentralized Competitions
Cryptoassets are a highly volatile unregulated investment product. No UK or EU investor protection.